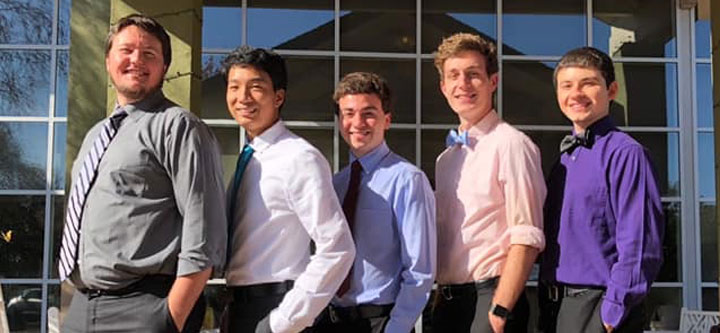 Alumni Update
Keep in touch with your fellow alumni! Submit an alumni update.
Five's a Crowd Brass Quintet Releases Album
The Cal Poly brass quintet Five's a Crowd released its first album, "Five of a Kind: Refined Mariachi," on Soundcloud. The students — a few are graduates, now! — recorded the works for the album during spring quarter.
Pictured from left-to-right above: Alec Marnoch (Aerospace Engineering, '19), Jordan Tom (Construction Management), Justin Privitera (Computer Science/Mathematics), Sam Nelson (Music, '19), and Sean Gonzales (Computer Science/Mathematics, '19).
Graduates Begin Assistantships
Sam Nelson (Music, '19) began attending the Hartt School at the University of Hartford in Connecticut this fall. The school offered him a teaching assistantship, and he's pursuing a master's degree in music history scholarship and research.
"I'm incredibly excited for the adventure and owe so many thanks to the Cal Poly music department for preparing me for this journey!"
Nelson is picture above, second from the right, in the Five's a Crowd photo.
Misti Webster (Music, '20) was offered a teaching assistantship from the University of Utah. She began attending the school in the fall to pursue a Master of Music degree in musicology.
"Thank you to everyone in the Cal Poly Music Department who helped make this possible!"