Paul Merkelo Brass Master Class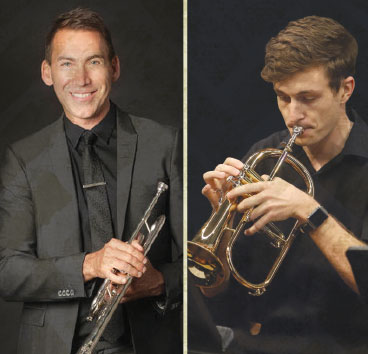 Merkelo and music major Sam Nelson
On Jan. 5, Paul Merkelo presented a brass master class where he shared his experiences and pedagogical tips with Cal Poly students and members of the community. Merkelo is principal trumpet of the Orchestre Symphonique de Montréal, and has been with the organization since 1995. He was previously principal trumpet with the Rochester Philharmonic and New Orleans Symphony. The class was co-sponsored by the Cal Poly Wind Orchestra, Symphony of the Vines and the Yamaha Corporation of America.
Paul Sherman Oboe Master Class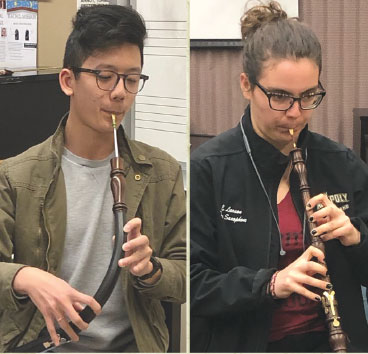 Karlson Can, oboe da caccia; and
Elle Larson, baroque oboe
On Jan. 23, oboe students had the opportunity to learn about baroque oboe, oboe d'amore and oboe da caccia from Paul Sherman while he was in San Luis Obispo for Cal Poly's Bach Week. Sherman performs on both modern and baroque period instruments and enjoys a career with many different musical branches including jazz, classical and early music. His doctorate is in oboe performance with minors in conducting, early music and music history from the University of Southern California.
Jessica Valeri Presentations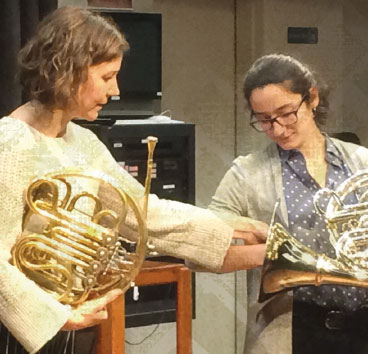 Valeri working with Marianna Pallas
Jessica Valeri, a horn player with the San Francisco Symphony, was a guest artist on the Wind Bands' March 10 winter concert titled "Time in Space." She filled Miossi Hall of the Performing Arts Center with her sound on Mozart's Concerto No. 3 in E-flat Major, a piece from the core repertoire for horn. Valeri presented a master class the preceding day which included valuable lessons to Cal Poly students on practicing and auditioning. The Q&A portion gave insights into working with a professional symphony.
Laura M. Kramer Composition Premiered by the Six Four Quartet
The Six Four Quartet premiered a new work for saxophone quartet by faculty member Laura M. Kramer titled "Moiré" at the 2019 North American Saxophone Alliance - Region 2 Conference from March 8-10, at the University of Arizona in Tucson. The Six Four Quartet includes software engineering major Victor Wei, soprano saxophone; history major Paige Rooney, alto saxophone; Kramer, tenor saxophone; and music and civil engineering major Noah Scanlan, baritone saxophone. While at the conference, the students had the opportunity to attend master classes, try out instruments from a variety of makers and hear performances.
Kramer will be the featured guest artist on the Cal Poly Wind Bands' spring concert on June 9 in the Performing Arts Center.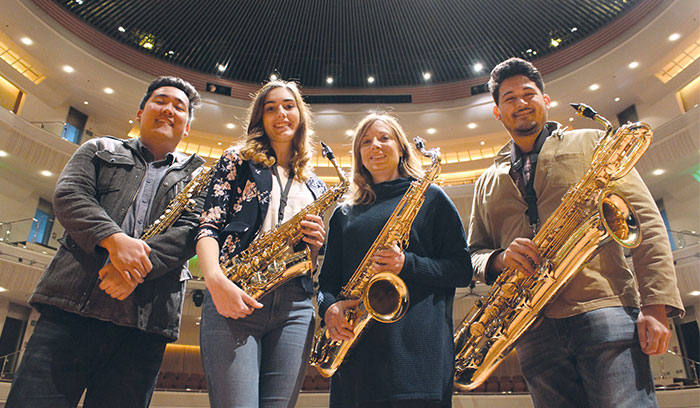 Victor Wei, Paige Rooney, Laura M. Kramer and Noah Scanlan