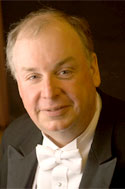 I remember enjoying The "Carol Burnett Show" as a kid. In fact, the variety show's mix of skits and music probably kick started my love of musical theater. I especially enjoyed the personal, musical ending of each show, when the star sang the charming tune "I'm So Glad We Had This Time Together." I've been humming that little tune a lot lately as I'm coming to the end of my 15th, and final, year as chair of the Cal Poly Music Department.
While I've enjoyed my time as chair, both the department and I will benefit from change. I feel the need to spend more time at the piano keyboard instead of the computer keyboard, teaching more and going to fewer meetings. I'm planning to retire from teaching full time in a few years. A thriving and growing Music Department needs to be led by someone who plans on being here longer than that.
I'm grateful that my colleague India D'Avignon is willing to step forward to be the next department chair. India has a great deal of successful academic leadership experience from her former institution, Capital University in Columbus, Ohio. She has great regard for the strengths of our program, ideas about how we can sustain them and a commitment to improve wherever possible.
I take great joy in being a member of the Cal Poly music community, and that will not change in the future. The faculty, staff, administration, and especially the students, give me that rarest of commodities, optimism. But I do look forward to spending more time practicing and teaching, and asking India how her meetings are going!
Maybe I need to change the lyrics to "I'm so glad we still have this time together … "
W. Terrence Spiller, Chair