Alumni Update
Keep in touch with your fellow alumni! Submit an alumni update.
Choir Alumni
Several Cal Poly choir alumni went Los Angeles to see fellow alumnus Jon Robert Hall play the role of Fiyero in "Wicked" at the Hollywood Pantages Theatre in January.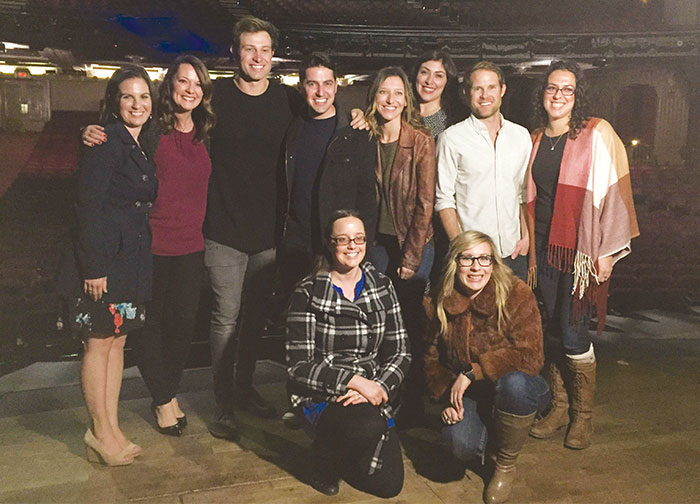 Pictured left to right and back to front: Kelly (Eshoff) Walker (Music, '09), Jessica (Reed) Morgan (Music, '06),
Hall (Music, '10), Rory Fratkin (Music, '10), Emma Levine (Music, '10), Stephanie (Davies) Miller (Music, '08),
Andrew Olson (Music, '09), Theresa Riforgiate (Music and Child Development, '11),
Jessica (Ourada) Garcia (Theatre, '09), and Whitney Westbrook (Music, '10).
Dominic Teresi
Dominic Teresi (Wind Ensemble, '87-'88) is principal bassoon of Tafelmusik, one of the world's top baroque orchestras and chamber choir. He also teaches at The Juilliard School and University of Toronto, and plays regularly with the Boston Early Music Festival and Carmel Bach Festival. He is a member of the 17th-century chamber group QUICKSILVER and the faculty chamber ensemble Juilliard Baroque. In demand on dulcian, baroque, classical and modern bassoon, he has also enjoyed playing with Le Concert d'Astrée, Orchestre Révolutionnaire et Romantique, the Smithsonian Players, American Bach Soloists, Philharmonia Baroque, the Helicon Foundation, Ensemble Arion, Ensemble Caprice, Toronto Consort, and Apollo's Fire. The New York Times has called his playing "stellar" and the Toronto Star said of a performance, "breath-stopping … managing to plumb every technical trick while also shaping the music with great skill." Teresi has been an invited artist on CBC Radio, performing a live radio concert of bassoon concertos and sonatas, and has appeared as a concerto soloist throughout Europe, Australia, and North America. Recent recordings include projects with Tafelmusik, Quicksilver, Four Centuries of Bach, Toronto Consort, The Smithsonian Players, and the Boston Early Music Festival Orchestra and Chamber Ensemble. In addition to his work at Juilliard, Teresi also teaches at the Tafelmusik Baroque Summer Institute and American Bach Soloists Academy, and has presented research on the dulcian at the Musikinstrumentenbau Symposium in Saxony-Anhalt, Germany. He holds a master's degree and an artist diploma in modern bassoon from Yale University, and a doctorate in early music from Indiana University.
Brandon J. Rolle
Brandon J. Rolle (Music, Political Science, '10) presented "Looking Outward: An Interdisciplinary Approach to Composition" on Feb. 26, at Cal Poly. He discussed pathways for modern composition, with emphasis on the influence of programming, audio synthesis and sonology on the creative process. He shared lessons drawn from his experiences in the industry, graduate school and freelance work; with the intent of giving students increased awareness of the trends, possibilities and practicalities of a career in composition. In addition to being a composer, Rolle is a conductor, educator and concert organizer. He teaches at the University of California, Santa Barbara, where he will soon earn his doctorate.
In Memoriam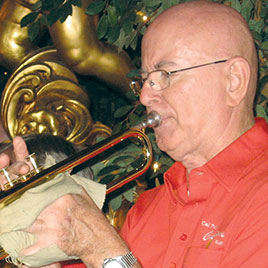 Ulan "Ed" Valusek (Collegians, '57-'60), died on Jan. 13. He played trumpet in the Collegians Alumni Big Band, and was also the group's historian and photographer. Valusek was an industrial engineer who spent part of his post-Cal Poly career as a civilian with the U.S. Air Force. Brilliantly talented with a camera, he devoted hundreds of hours to creating an unforgettable visual record of the Collegians' activities over five decades, and the slide show he produced was a highlight of the band's annual reunion. Among his retirement activities, Valusek was regularly in demand as a judge for amateur photography contests.
Collegians Update
The performance of the Collegians Alumni Big Band last August at the Madonna Inn was its last. For 20 years the group delighted music and dance lovers alike at the venue, as it played swinging tunes from the big-band era. The performances also served as a means of collecting funds for the Collegians Jazz Scholarship, for which thousands of dollars have been raised, and from which numerous deserving students have benefited. Last year also marked the band's 51-year reunion. We hope the Collegians can continue to gather and make music. In the meantime, please consider helping continue the group's legacy and support current and future generations of jazz students by contributing to the Collegians Jazz Scholarship.