Watson Scholarship Awardees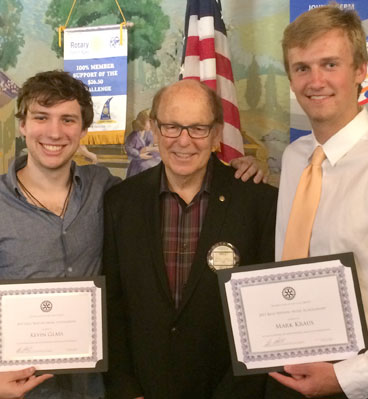 Left to right: Kevin Glass, Music Professor Emeritus
William Johnson and Mark Kraus
Two music major pianists were winners of the Rotary Club's 2017 Billy Watson Memorial Scholarship: Kevin Glass received $3,000 and Mark Kraus received $1,000. The awards were presented at the club's annual scholarship meeting on May 22. Both study piano with W. Terrence Spiller.
This is the 34th year of this annual scholarship, which was established in Billy Watson's name after his untimely death in 1981. Like George Gershwin, he developed a brain tumor and succumbed at an early age. A total of $131,500 has been awarded to 51 individuals, many of whom have been Cal Poly students. Watson was the San Luis Obispo County superintendent of schools and a member of the San Luis Obispo Rotary Club. As a club member, he served as the club's pianist, president and district governor. He was also the official pianist of Rotary International.
Music Majors Recognized for Essays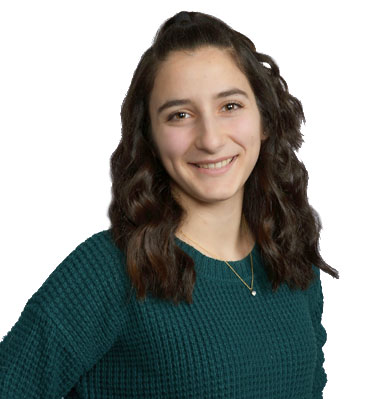 Marianna Pallas
Marianna Pallas and Mark Kraus (pictured in Watson scholarship article column at left) had essays published in the English Department's "Fresh Voices: College Composition at Cal Poly." Over 300 students in last year's writing and rhetoric classes were invited to submit essays for consideration, and only 40 were selected. "'Fresh Voices' has become a staple text in our first-year writing courses," said English Department Director of Writing Brenda Helmbrecht. "Which means the essays will be read by thousands of students. The essays in the collection offer student writers new ways to think about their own writing; indeed, the composition program believes that students can learn a lot from their own peers." Pallas' essay is titled "Bring Music Bach," and Kraus' is "Gator-Ad." An awards reception was held Oct. 13 in the University Art Gallery.
Brass Players Spend Week in Dublin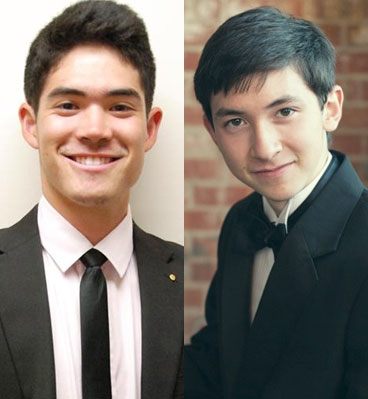 Kent Giese and Taylor O'Hanlon
Kent Giese (at left) and Taylor O'Hanlon were selected to participate in this year's Dublin Brass Week, the fourth year Cal Poly students have participated in the event at the Royal Irish Academy of Music. "The most valuable part of this is the international experience," said O'Hanlon. "We got to hear — especially in the graduate students — what people from widely varying settings emphasize in their music education." This was Giese's first summer brass workshop. A highlight for him was a master class with Jörgen van Rijen, principal trombone of the Royal Concertgebouw Orchestra. "Summer programs like DBW are especially helpful because it can inspire students to spend their summer even more productively and hone their newly learned skills," said Giese.
Both students are music majors. O'Hanlon studies trumpet with Christopher Woodruff, and Giese studies trombone with Mark Miller.