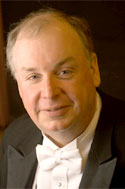 I've always loved fall. In fact, I think that it's my favorite season. I enjoy the cool evenings, the warm days and that distinctive golden light. I also feel a sense of renewal and optimism this time of year. Wallace Stegner remarked on these sensations in his novel "Angle of Repose": "Another fall, another turned page; there was something of jubilee in that annual autumnal beginning, as if last year's mistakes had been wiped clean by summer."
Each class, each ensemble has this sense of untarnished newness. I don't feel that this sensibility is a rejection of the past. The past, after all, is what has shaped us; and let's face it, as a performing musician, you are what you have practiced! Rather, it is a recognition that there is a chance for everyone — students, faculty and staff — to do something new, or do something better, and to work with old friends, or make new ones.
That our autumnal musical beginnings could be considered a jubilee is appropriate. The English word jubilee comes from the Hebrew word yōbēl, which originally referred to a "ram's-horn-trumpet" which "proclaimed" a jubilee year. So, the whole idea of a jubilee is directly connected to music. This connection between etymology and music is a reminder of the nearly constant role music has played in lives and in societies, for thousands of years. When we celebrate what Stegner referred to as "another turned page," we really connect to our immediate, as well as our distant, pasts. I take great comfort in this connection between new beginnings and old celebrations, knowing that there will be jubilees long after we're gone, and that — in some small way — we'll be part of those far-in-the-future celebrations. Let's all make sure that we enjoy those jubilees allotted to us!