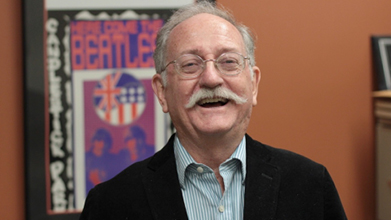 Craig H. Russell — beloved Cal Poly Music Department teacher, scholar, performer, composer and mentor — has announced that he will retire following the spring 2016 quarter. He will, however, return to teach music classes in the fall. The Music Department will honor Russell at the Early Music Ensemble's Spring Concert directed by Thomas Davies. The concert, titled "Craig Russell, A Musical Tribute!" will be at 2 p.m. Monday, May 30, in Harman Hall of the Performing Arts Center's Christopher Cohan Center. It will feature music from the Americas edited by Russell, including works by António de Salazar, Manuel de Sumaya and Ignacio Jerusalem — plus a few surprises.
Update! Dr. Russell has postponed his retirement, and plans to teach full-time over the next year or two. The May 30 concert will now be a celebration of Russell's contributions to Cal Poly, and a pre-commemoration of his pre-retirement!
Russell arrived at Cal Poly in the fall of 1982, following completion of his doctorate at the University of North Carolina. His 34 years of service at Cal Poly have been marked by numerous awards from the university, the California State University (CSU) system and professional scholarly organizations across the world. Included among these honors are the 2007 Wang Family Excellence Award in recognition of CSU faculty who distinguish themselves by exemplary contributions and achievements in their academic disciplines; the 2007 Cal Poly Distinguished Research Award; the 2007 Cal Poly College of Liberal Arts' Distinguished Research Award; the 1996 President's Arts Award; the 1994-95 CSU Trustee's Outstanding Professor Award, CSU's highest honor; and the 1994-95 Cal Poly Outstanding Faculty Award. In 2013 he was inducted into the prestigious Reial Acadèmie Catalana de Belles Arts de Sant Jordi (one of a few North American scholars to be inducted into this Spanish Royal Academy).
In addition to teaching traditional courses such as music appreciation and music history, he pioneered extremely popular classes such as The Beatles, Music of the '60s: War and Peace and Popular Music Styles of Latin America.
His publications have also won numerous awards. His book "From Serra to Sancho: Music and Pageantry in the California Missions" (New York: Oxford University Press, 2009) won the 2010 Edna Kimbro award as the most distinguished publication dealing with missions. Another book, "J.B. Sancho: Pioneer Composer of California" (Palma: Universitat de les Illes Balears, 2007), won the Historical Society of Southern California's Norman Neuerburg Award for outstanding writing in early California history in 2007.
His compositions have been performed internationally to significant acclaim. The San Luis Obispo Symphony Orchestra has performed Russell's concerts in Carnegie Hall in New York City, the Walt Disney Concert Hall in Los Angeles, the John F. Kennedy Center for the Performing Arts in Washington, D.C., and the Sydney Opera House in Australia. The group also performed his works on a tour across Spain.
As Russell shared with some of his students, "I'm not saying 'goodbye' at all. I AM saying, 'Hooray — I will have time to compose, to ride my bike, to teach a semester in Panamá or Barcelona or Mallorca, to spend a couple of newly freed-up weeks from campus to go blasting down ski slopes at Whistler or Steamboat Springs. The possibilities are numerous!'"
Please join us for our concert on May 30 when we will celebrate Russell's many accomplishments, thank him for all that he has done for Cal Poly and our community, and help him look forward to his next projects. Concert-goers are invited to attend a reception in the Performing Arts Center's Rossi Grand Lobby following the concert.
The Music Department is compiling anecdotes and well-wishes for a memory book for Russell. Those wanting to contribute can do so at our online form.