Keep in touch with your fellow alumni!
Mike Annuzzi
Mike Annuzzi (Music, '09) released his third full-length album in Feb. 2016 titled "The One." His artist career developed during his years as a Cal Poly music student, and it's continued to grow since. He's performed more than 500 shows throughout the U.S. in the last three years, headlining clubs and supporting national touring acts. He says he's established himself and his positive rhythmic sound on hometown stages and beyond. For more information, visit his website.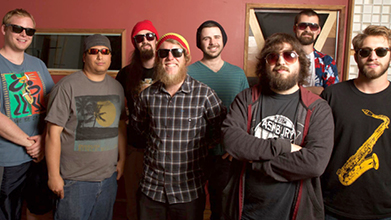 Fischer in the center, Carlson and Porovich next to him, on right
Kyler Fischer
Kyler Fischer (Music, '13) Since graduation, I have been extremely busy producing an instrumental/jazz/funk/rock/fusion full-length album of all original music. CHUNK is a nine-piece band with bass, drums, two guitars, trumpet, trombone, tenor sax, alto sax, and auxiliary percussion and includes fellow music alumni Trevor Carlson ('13) and Robby Porovich ('15). We have worked very hard producing this self-titled album, and I am happy with what we have accomplished as musicians and recording artists. I personally did the audio engineering, mixing and mastering for the album at a local recording studio my friends and I built, called Speak Studios. We had our release party at Tap-It Brewing in San Luis Obispo on Oct. 31.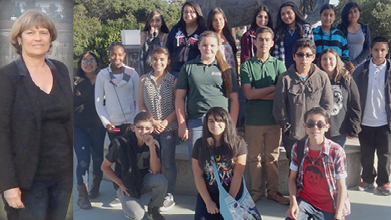 Hurlburt with her 8th-grade class at Cal Poly in June
Janice Hurlburt
Janice Hurlburt (Music, '00) This is my 15th year working in the Greenfield Union School District. Until this year, I taught band at three elementary schools and the middle school. Now I'm full time at Vista Verde Middle School, where I continue to teach three grade-level bands. I also started a beginning band and two choir classes. Dr. Terry Spiller and the Cal Poly Music Department have provided the opportunity for my band students to attend concerts and tour the campus since 2008. This year Dr. Thomas Davies also made it possible for my first-year choir students to attend a choir concert. The experience of visiting campus and seeing live performances has always impressed and inspired my students and the parents who have attended. At least one student has attended Cal Poly as a direct result of our visits, and several more are considering it.
Olivia Tenney
Olivia Tenney (Music, '12) I've been fortunate to be working as a playlist performer/lead vocalist for Carnival Cruise Lines since October 2012. In May of 2013, I was promoted to vocal captain of Carnival's newly designed 2.0 entertainment productions that combine captivating live performances with high-tech LED staging and special effects. In the words of Carnival's creative team, "Carnival's 2.0 shows are developed by top talent in the entertainment industry, featuring multi-talented 'triple threat' performers with a diversity of musical styles." My amazing job has allowed me to travel to such beautiful locations as Alaska and Hawaii, the Bahamas, the Caribbean, the Panama Canal and South America. I am able to continue exercising the Learn by Doing practice I used while earning my degree at Cal Poly as I travel the world, meeting wonderful people and enjoying the many benefits of life at sea. Thank you Cal Poly and my incredible professors in the Music Department for setting high expectations that have enabled me to pursue my dream and passion to perform.