Mustang Band Drum Majors Take Top Honors at Summer Camp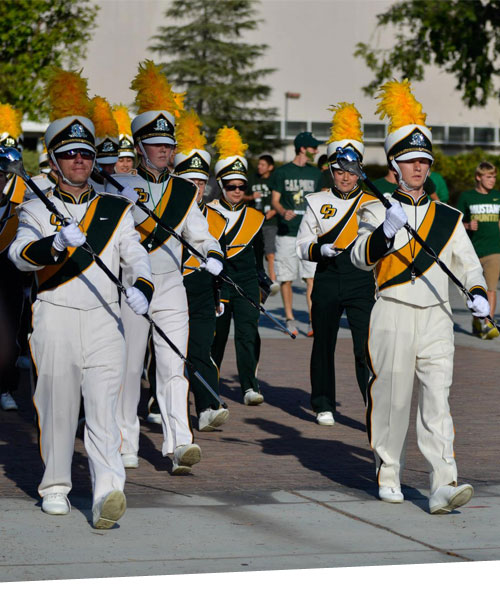 Drum majors (white pants) left to right:
Jeff Brown, Erin Stearns, Andrew Parker
This past summer, two of Mustang Band's drum majors — Jeff Brown and Erin Stearns — achieved "First Class" distinction at the Smith Walbridge Drum Major Camp hosted at Eastern Illinois University. Founded in 1949, the camp is a center for training marching band student leadership and staff for college and high school bands from across the nation. The camp has provided training for Cal Poly drum majors for the last six years.
Of the recognition Jeff Brown (MBUS) describes the achievement:
First Class is quite an accomplishment, as it requires the candidate to exhibit practical skills (marching, conducting, giving commands) as well as a mastery of musical and marching knowledge. Each candidate gets only one attempt and can be eliminated for a mistake at any of the four stages.
Student drum majors at Cal Poly hold the utmost musical responsibility in field performance. With the single exception of the "Star Spangled Banner," all 200 members of Mustang Band rely on the student conductors for their musical leadership.
Andrew Parker (PHYS) in his first year as drum major feels he definitely benefited from the clinic's focus on marching fundamentals, leadership principles, and especially mace skills. Still, he says, "my favorite part was the conducting class."
Erin Stearns (MAERO) returns to serve a third year as drum major and also received the Smith Walbridge Camp's highest recognition. In addition to her work for Mustang Band and playing tuba in the Cal Poly Wind Ensemble, she works as a manager of Facility Operations for Cal Poly's new Recreation Center. Regarding her time with the bands and symphony, Erin writes:
My experiences have really developed me into the leader that I am today. I have been able to improve on many of my leadership skills, including public speaking, teaching, conflict resolution, logistics/planning and having a better overall understanding of people and the ability to work successfully with different personalities.
Asked if there were any thoughts that came to mind as he looks forward to his final year with Mustang Band, Jeff responded:
I am incredibly grateful for the opportunities I have had in Mustang Band. The skills I have gained will help me in life more than I will ever know. The friendships I have developed will last a lifetime. There is really nothing else to say except, "I love band!"
Mustang Band Meets Its Max
With its fall 2012 edition, the Mustang Band has reached its historical and structural maximum at 200 performers, which includes:

two new feature twirlers
10 color guard
trumpet section of 34 members!
According to Associate Director of Bands Christopher Woodruff, it's a double-edged sword:

For the last couple years, that has meant we can't take everyone who auditions for the Pride of the Pacific; however, we've been able to be more selective and continue to raise the bar of excellence and level of commitment to the program.