Alumni Update
Keep in touch with your fellow alums!
"When One Door Closes, Another Opens"
by Courtney Wolfe, 2010 music graduate
On Oct. 6, I performed in my first concert with the San Luis Obispo Symphony as the principal timpanist. I felt nervous, something I haven't felt prior to a performance in a long time. It wasn't because of the music, or the fact I haven't performed in a couple years. It was because I was succeeding a great musician and friend, Ross Sears. Ross passed away last March in his home. He was known throughout the area as a highly skilled musician and one of the friendliest people you'd ever meet.
Much of who I am as a musician is because of Ross. He taught me so much, and I hope to do him proud. Every concert I perform, I'll be thinking about him. I know he's somewhere listening, and I dedicate my performances to him.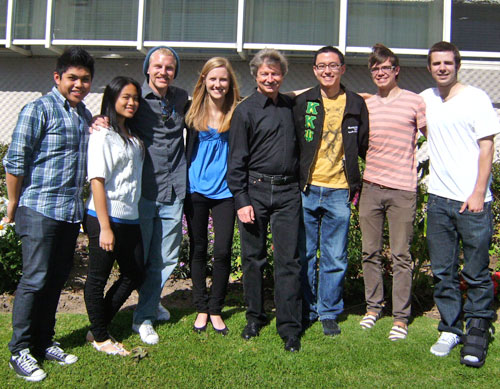 Ross Sears pictured with Courtney Wolfe and other students:
Kevin Capacia, Danielle Mendoza, Scott Charvet, Wolfe, Sears, Matt Williams,
Jonathan Withem, Trevor Carlson
(Note: The Music Department held a memorial celebration for Sears in the Spanos Theatre on May 17.)
Vikrant Singh Badwal
Vikrant Singh Badwal (2007 Electrical Engineering, 2001-07 Mustang Band, Pep Band, University Jazz Band, Wind Orchestra, Wind Ensemble, Winter Percussion, Brass Ensemble) Wow! It has been five years since I "quit" band. I was very lucky to start my career after graduating from Cal Poly in the same field that I studied in. I work for Boston Scientific Corp. in the Electrophysiology Department as a research and development engineer in the San Francisco Bay Area. The division develops medical device equipment used to treat heart rhythm disorders.
I maintain ties to music. I play or sub for various ensembles in the Bay Area, including: Mission College Symphony, Mission Peak Brass Band, and Ohlone Community Band. During the fall and winter seasons I work as a brass, visual and/or front ensemble instructor for local marching bands/winter percussion programs.
Cal Poly's engineering and music programs had a strong impact on my life. I take comfort in the fact that I am playing with lots of engineers who have the same gusto for music; just like most of my ensembles at Cal Poly! I hope to make it out to a Homecoming game one of these seasons if I'm not at a marching band field show review.
Sam Estes
Sam Estes (2000 Music, 1996-2000 Chamber Ensembles, Wind Ensembles, Men's Chorus, PolyPhonics, Orchestra) Hope all is well in Cal Poly music land. I decided to leave Hans Zimmer's studio after four years to join a team of samplists, sound designers and composers at Cinesamples/Hollywood Scoring. The company is a little more focused on video game music and developing sounds for the other composers in town. It was a much needed change of pace after a lot of work on "Dark Knight" and the Oscars during the same couple of months!
I just did a bunch of work for Danny Elfman and Jimmy Levine on the FX show "American Horror Story," under this new team. I still have ties with Remote Control, so continue to send any students interested in film music my way.
I wrote about 30-40 minutes of music (with composer Nico Abondolo) for a show titled "Half The Sky," which aired on PBS Oct. 1. I also played some "ethnic flute."
Daniel Herrero
Daniel Herrero (Business 2008, Music Minor) I graduated in 2008 with a business degree and a minor in music. That said, it should come as no surprise to say I'm now a financial analyst by profession and stay active musically as a personal hobby. However, somehow when I re-read this last sentence, I feel weird about the connotation. Truth be told, I recall more about secondary dominants from Dr. Brammeier and proper hand curvature from Dr. Spiller than I do anything from my accounting classes. I was (and still am) a music student of not-so-virtuoso talent, and this has actually served me well. My years at Cal Poly (and continued pursuit of musical mastery) is always a humbling and motivational reminder. I will never make it to the end of Liszt's "Technical Exercises" or fully understand the intricacies of "Harmony in Context," but I enjoy trying nonetheless. A learning attitude is contagious, and I am the better person for it. Hope all is well in SLO; I've traveled quite a bit the last four years and still nothing beats the Central Coast!