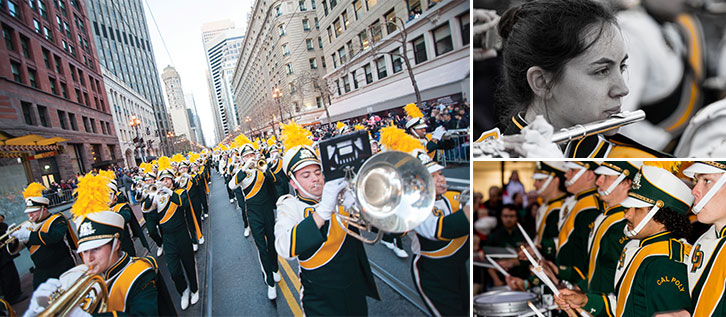 Mustang Marching Band
The Mustang Marching Band is the largest, most visible performing group on campus. The band is comprised of a dedicated color guard, and woodwind, brass and percussion players who provide entertainment at many Cal Poly athletic events. The band maintains a very reasonable schedule of rehearsals and performances, making it possible for students from any major to participate.
Mustang Band rehearses Tuesdays and Thursdays, 3:10 to 5:30 p.m. The band performs in different configurations throughout the year. In fall quarter, the full band performs as a large outdoor marching band at football games and is divided into pep bands for volleyball and basketball games. During winter quarter, the band switches fully into pep band mode, playing at home basketball games, pep rallies, and community events. During spring quarter, the group performs at Open House and other activities as needed. Each year, Mustang Band travels at least once as a full band. For this season, they will travel to San Francisco for the Chinese New Year Parade
Please note that due to COVID-19, any dates listed are subject to change.
How to Qualify
If you have been an active member of your high school and/or college band, you likely already have the basic skills necessary for membership. There is a place for you in the Mustang Band. Come and join us.
Academic Credit
Students participating in the Mustang Band receive two units of credit. All new members of the band will enroll in MU 176-01, "Mustang Band" as well as MU 178-01, "Field Show Marching Skills."
Travel
Once or twice each year, the full complement of Mustang Band travels to represent the university at key events. These include football games and the San Francisco Chinese New Year Parade. In the winter the Pep Band will attend the Big West Basketball Tournament and go on to support our teams in NCAA competition.
Auditions
Generally speaking, any student who performed throughout their high school band program has the skill needed to audition successfully for Mustang Band. All prospective members may either submit an audition online or perform in person on selected dates. For specific information, please refer to the Mustang Band website. Upon completion of auditions, the full Band roster for fall will be announced during the first week of August.
Cost
Each new member must purchase the white and green uniform Pep Band jerseys (total $25). White gloves are available for $2. All purchases will be through the band's Uniform Manager. Students are responsible for finding white marching shoes for the formal uniform. If you have white, non-shiny marching shoes from high school, then you may use those. Refer to the Mustang Band website for specifications and recommendations for placing your order.
For those students who need a state-owned instrument (percussion, sousaphone, marching French horn, etc.) a $20 "music use fee" must be paid for each quarter the instrument is used. This fee may be paid through a student's Cal Poly Portal or at the Cashier's Office on campus.
Band Camp
Band Camp is a great deal of fun and provides you with an opportunity to meet other band members and review the playing and marching skills that you will need in order to be a successful member of the band.

Band Camp for new members will begin on Wednesday, Sept. 9.
We will cover the costs and make arrangements for you to move in early.
Band Camp will pause for Orientation Academic Day, then will resume and continue through Wednesday, Sept. 16.
We also have a shorter, required camp during the following weekend: Friday, Sept. 19–Sunday, Sept. 20.
It is important that we have your contact information in order to provide you with specific details regarding band camp. Please complete the Online Interest Form.
Mustang Band Orientation
All new band members are required to participate in the combined Mustang Band Week of Welcome (WoW) program, which runs concurrently with Band Camp during the week before classes begin. This program allows you to have many of the wonderful experiences that WOW has to offer, while still allowing you to participate in the Marching Band. All of the Marching Band Orientation leaders are trained as part of the campuswide Orientation program, and they coordinate their activities in such a way as to provide you with a genuine "WoW" experience.
Students planning to participate in Mustang Band should register for summer SLO Days and Week of Welcome. Once our fall roster is announced those students accepted into Mustang Band will be automatically moved into a Mustang Band Orientation group by the Orientation staff.
Find Out More
If you have any questions, or if you would like additional information, please do not hesitate to contact us. Otherwise, if you think that you might want to be a part of the Cal Poly "Pride of the Pacific," please fill out our Online Interest Form.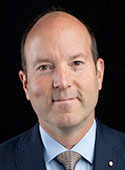 Ensemble Director
Christopher J. Woodruff, Director of Bands
Email Christopher Woodruff
Phone: 805-756-6856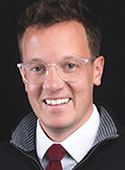 Ensemble Director
Nicholas P. Waldron, Associate Director of Bands
Email Nicholas Waldron
Phone: 805-756-2658