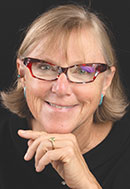 We recently had the honor of welcoming our incoming first-year students, and they are definitely a talented bunch. They were blended into our community at the Music Department's annual beginning-of-the-year dinner at the home of Terry Spiller and Alyson McLamore. See the group photo.
Terry is owed a debt of gratitude for his efforts and generosity on many fronts, but especially for his past 15 years at the helm as department chair. He led us with skill and professionalism, and always — and most importantly at times — with a sense of humor.
During those 15 years, Terry performed close to 100 piano recitals on campus, most recently his popular Beethoven sonata cycle programs. Many of his efforts have greatly benefitted our students, such as the quarterly master classes that he instituted, and often coaches, at which students perform in front of an audience and faculty give constructive suggestions for improvements. Due in part to this educational initiative, he won the university's Richard K. Simon Award for Outstanding Faculty Service. In addition, he helped gain funding for additional teaching positions and several fleets of digital keyboards and acoustic pianos.
So, Terry, we are all grateful to you for your leadership and thankful that you remain on our faculty as an artist, a generous colleague, and for me, a mentor. Thank you so much for your guidance, your good humor, and especially for your knowing when to hit the delete key rather than forwarding to us a bunch of emails.
Your optimism is contagious, so I will sign off as you did in your last Soundboard missive, "I'm so glad we still have this time together."
India D'Avignon