in this section
Keep in touch with your fellow alumni!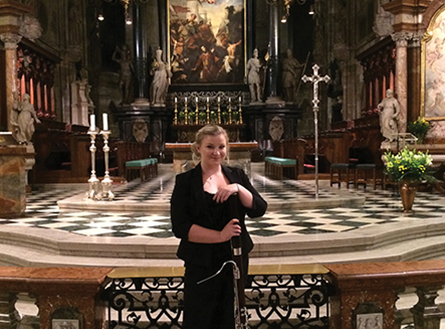 Emmie Banninger
Emmie Banninger (Music, '17) is back on the Central Coast after attending the Royal Academy of Music in London for two years. She had two bassoon teachers: John Orford and Amy Harman, and two contrabassoon teachers: Simon Estell and Fraser Gordon. There were numerous projects, or concerts, she was placed into, and she created a professional portfolio which counted for 25% of her degree. Some gigs took her outside of the city, and even the country. She returned to the Rudolfinum Dvořák Hall in Prague, where she first played while on tour with the Cal Poly Symphony. For her second appearance there, she was delighted to play "The Rite of Spring." She also went to Jersey, one of the Channel Islands off the coast of France. Banninger jumped at an invitation to play with the London Sinfonietta Academy. The ensemble performed Elliott Carter's Chamber Symphony, which ends with a very complicated bassoon solo that's nearly three-minutes long, which she said is one of the hardest solos written for bassoon. She was thrilled for the opportunity, so instead of attending her graduation, she played for the rehearsal and concert.
Pictured: Banninger in a church in Prague
Richard Carrick
Richard Carrick (Music, '08) is working on his Doctor of Musical Arts in conducting at the University of Washington. As part of his work there, he is a music history teaching assistant. He instructs 200 students in a survey of Western music. His wife and two daughters are doing well and love living in the Pacific Northwest.
Lauren Castro
Lauren Castro (Music, '13) was promoted to content manager for Hopper, a travel-booking app. Her role involves copywriting and editing; knowledge management in English, French and Spanish; localisation; building content for chat bots; and creating and managing the help center at help.hopper.com. She also just became a permanent resident of Canada, which she said took a long time.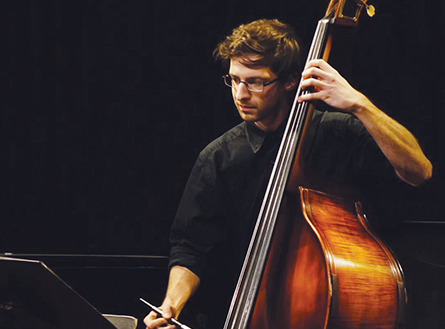 James Gallardo
James Gallardo (Music, '17) has kept busy playing bass since graduation. He made his first regional tour with San Luis Obispo Repertory Theatre (SLO Rep) performing in "All Night Strut" in summer 2017. That fall, bree valle, artistic director of drama at Cuesta Community College, hired him as a pit musician and extra for "Man of La Mancha." It was chosen as one of six college-level theater productions in the country to compete at the Kennedy Center American College Theatre Festival, and won seven awards. PCPA Theatre Conservatory recorded him playing bass guitar for the musicals "Freaky Friday" and "Mamma Mia." In 2018, he performed music as an extra in the movie "Destination Wedding" starring Winona Ryder and Keanu Reeves. In 2019, he toured for six months with SLO Rep and PCPA acting and performing as Brother Jay in the Tony Award-winning musical "Million Dollar Quartet." He is co-music director of a children's youth choir at St. Timothy's Catholic Church in Morro Bay. He performs, tours and arranges music for over a dozen ensembles in San Luis Obispo, and fills in for a variety of local jazz orchestras, singer-songwriters, ensembles, and chamber orchestras. He frequently travels to Los Angeles to take private music lessons with jazz educators, including Luther Hughes, Dave Robaire, Dave Tranchina, Emilio Terranova and Michael Mull. He plans to release a full-length album and apply to a master's degree program. Starting in January, he'll be a pit musician for SLO Rep's production of "Always … Patsy Cline."
Katelyn Tomasello (Music, Psychology, '16) graduated from Santa Clara University in June 2019 with a Master of Arts degree in teaching and a multiple subject teaching credential. She recently embarked on her first year of teaching as a fourth grade teacher at Lincoln Crossing Elementary School in Lincoln, California. She said she is thrilled, and that the school where she teaches really values music, which was a priority for her. She's collaborating with the music teacher and hopes that with her background in piano, she will be able to accompany musical activities and productions. She and Andrew Mikkelsen, an alumnus of the Cal Poly Choirs ('12-'17) are engaged. Another match made in the Music Department!