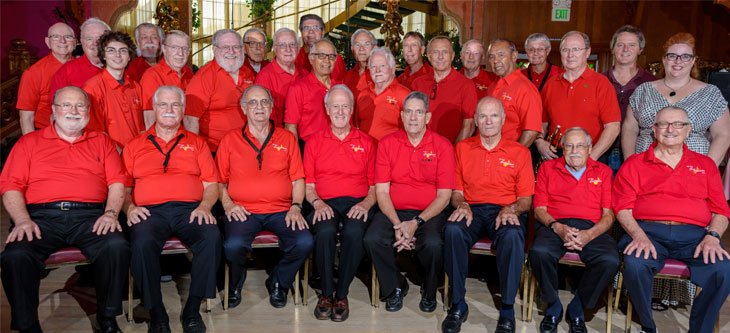 The Cal Poly Collegians Alumni Big Band will celebrate its golden 50-year reunion with a performance from 7:30 to 10:30 p.m. Saturday, Aug. 26, in the Madonna Inn ballroom.
The Collegians — predecessor to today's acclaimed University Jazz Bands — was founded in 1937 by then Music Department Head Harold P. "Davy" Davidson. The alumni band members are Cal Poly graduates spanning the decades of the 1940s through the '60s. The Collegians are working on a plaque that honors Davidson, for whom the Davidson Music Center is named, that should be installed in the music building by the August reunion.
At the reunion performances, the ensemble of 20 musicians recreates the swinging sounds of the big band era. The Collegians have developed a loyal following over the years and many enjoy dancing to the band's music. The Collegians established a scholarship in 2000 for deserving jazz students, and the scholarship winners perform at the reunion concerts. This year's winners are Taylor O'Hanlon, trumpet, and Tyler Stockton, trombone.
Given the group's impressive longevity, members have decided it's time to start filling in the ranks with new members. Anyone interested in joining the Collegians for future reunions — and who is a past participant in the Collegians or University Jazz Bands — is invited to send an email through the comments link on the Collegians' website (URL below), where there is also a great historical record, including many photos.