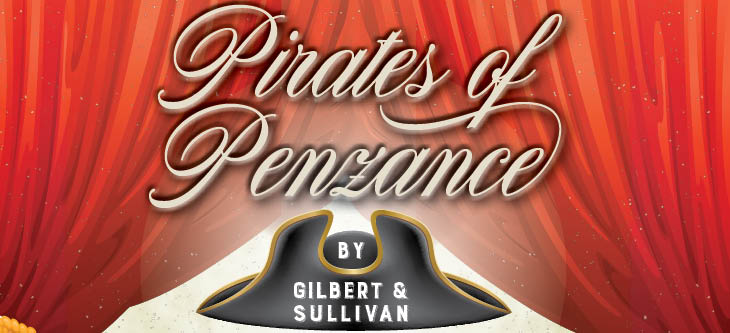 Cal Poly Student Opera Theatre to Present Gilbert and Sullivan's 'The Pirates of Penzance' April 7-8
Cal Poly's Student Opera Theatre (CPSOT) presents Gilbert and Sullivan's hilarious operetta "The Pirates of Penzance" at 7:30 p.m. Friday and Saturday, April 7-8, in the Spanos Theatre on campus.
"The operetta is a sublime and hilarious marriage of clever verse and beautiful music," said music faculty member Jacalyn Kreitzer, CPSOT's founder and producer. "It's a farce filled with puerile policemen, ludicrous lovers, pathetic pirates and an eccentric major general."
Kreitzer selected "Pirates of Penzance" for this year's semi-staged production in honor of Thomas Davies, Cal Poly's director of choral activities and vocal studies, who is retiring at the end of the academic year.
As with other CPSOT productions, students in "The Pirates of Penzance" will sing lead, comprimario and ensemble roles. The chorus, stage managers, assistant director, assistant producer, make-up, costume designers and stage craftsmen are also students from a wide variety of majors.
Some roles are double cast to provide as many educational opportunities as possible. Chris Wall is Frederick, glad to end his pirate indentures; Corey Hable and Zachary Davis are the major-general, who may lose his daughters in marriage to the orphan band of pirates; Joshua Mueller and Chris Tusan are the conquering pirate kings; Liam Daley is Samuel; Hannah Littier and Samantha Foulk play the coy Mabel; Kelsey Ishimatsu-Jacobson and Lauren Hartog sing the woes of the aging Ruth; and Gabriela Crolla, Jill Gibson, Molly Gooch and Jennifer Jang sing the roles of Edith, Isabel and Kate, some of the major-general's slightly confused daughters.
Marcy Irving, founder and director of Central Coast Gilbert and Sullivan, will direct the production in concert style. Davies will conduct and Paul Woodring will play the orchestral parts on piano. Woodring is a Music Department staff accompanist and the university organist.
Tickets are $14 for the public and $9 for students. Tickets are sold at the Cal Poly Ticket Office between noon and 6 p.m. Monday through Saturday. To order by phone, call 805-SLO-4TIX (805-756-4849).
The performances are sponsored by Cal Poly's Music Department, College of Liberal Arts, and Instructionally Related Activities program. Additional support is provided by John Edmisten, in memory of Yvonne Edmisten.