Soloists Perform with Symphony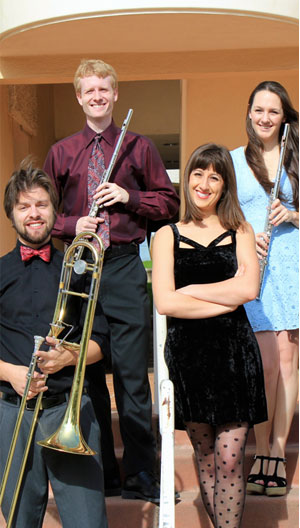 Left-to-right: Brett Malta, Doug Gallatin,
Taylor Safina and Kelsey Beisecker
Every year, the Cal Poly Symphony holds auditions for student soloists of any major. The prize for several of them? A performance with the symphony, of course!
On March 16, four soloists performed works from four different musical traditions:
Music major Brett Malta: Gordon Jacob's Trombone Concerto, first movement.
Economics major Kelsey Beisecker: Carl Reinecke's Flute Concerto in D Major, third movement.
Music major Taylor Safina: Antonín Dvo?ák's "Song to the Moon" from his opera "Rusalka."
Computer science major Doug Gallatin: Otar Gordeli's Concertino, Op. 8, for flute and orchestra.
Music Department faculty member David Arrivée conducted the program, which also featured two works by American composers: Samuel Barber's Essay No. 1 for orchestra and Leonard Bernstein's "Symphonic Dances" from "West Side Story."