Alumni Update
Keep in touch with your fellow alumni!
In Memoriam: Randy Garacci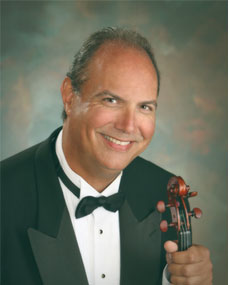 The music community in San Luis Obispo is deeply saddened by the passing of violinist Randy Garacci. Arriving at Cal Poly in 1975 to study math, Garacci soon became involved in music on campus and throughout the community. An excellent musician, he participated in the Cal Poly Chamber Orchestra and other Music Department groups, including the chamber music and baroque ensembles. He was soon involved in the San Luis Obispo Symphony, Tolosa Strings, Youth Symphony, Mozart Festival, and virtually any other musical organization that asked him to play.
Garacci's infectious good humor and personal warmth came as naturally as his violin playing. He enriched the personal and musical lives of everyone who knew him. Fortunately, after earning his bachelor's degree in mathematics in 1979, he remained in San Luis Obispo as a computer programmer, with time for music, community volunteer organizations, his wonderful family and his church.
He passed away after a battle with leukemia in December 2013 and will be sorely missed. He was a very special person.
Woody Barley
Woody Barley (1967 Printing; 1962-67, Men's Glee Club, Majors and Minors) I'm in my third career, as a crew member at Trader Joe's in La Jolla, Calif. Previously I'd spent 35 years as a commercial printer in Del Mar, then 11 years as a school bus driver (I drove the buses on spring tour at Cal Poly) for the San Dieguito High School District. I've been married for 41 years and have three grown daughters. The oldest, Angela, graduated from Cal Poly in 1999 with a degree in landscape architecture. For over 20 years I've been singing and playing bass at church.
Russ Cummings
Russ Cummings (1999 Music; 1977 Aerospace Engineering, 1990-99 Piano Ensemble) Cummings became head of the U.S. Air Force Academy's Department of Aeronautics in the fall of last year. In his spare time he is a substitute teacher for the music history course at the academy.
Christine Nasol
Christine Nasol (2006 Music; 2001-06 University Singers, PolyPhonics) I have been living in Brooklyn, N.Y., for the past three years and recently earned a master's degree in music therapy at New York University.
Currently I provide music therapy socialization groups for preschool-age children with developmental delays on the autism spectrum at two different therapeutic preschools: the Manhattan Early Childhood Center and the Children's Learning Center.

In addition, I work with Art Beyond Sight, an organization providing learning experiences — through music and art ­— to the visually impaired. Through this organization, I work with the gifted students at the Lavelle School for the Blind and the New York Institution for Special Education.
Jon Hall Cast as Stacey Jaxx in 'Rock of Ages'

After graduation, Jon Hall, a 2010 music graduate and former Mustang football fullback, went on to play several different characters on stage and on television, including Warbler "John" in the TV show "Glee." Since fall 2013, he has been featured in the musical "Rock of Ages," presented at the Venetian in Las Vegas. Hall was cast as "Stacee Jaxx," the role played by Tom Cruise in the film adaptation.
The same production team is putting on the show in New York. Cast members are shared between the two locations, so it may not be long before Hall makes his debut on the Great White Way. Hall said:
My experience in Las Vegas has been wonderful. I am really enjoying the role of Stacee Jaxx and love singing great '80s hits. I work all but Monday night, so my days are completely off, which gives me time to work on other projects. I've found that being a resident of Las Vegas is a lot different than being a visitor. My wife and I are beginning to settle into the city, but we don't go to the strip much unless it's for work or a red carpet or nonprofit event. I'm loving my job!
Loren Keagle and Chad Tindel
Loren Keagle (2001 Physics, Music minor, flute) and Chad Tindel (2000 Computer Science major, trumpet) met during their first year at Cal Poly when they were in the Mustang Band and Wind Orchestra and quickly became friends. They were roommates for their final years at Cal Poly, and together served as back-to-back presidents of the Mustang Band. Keagle also served as an officer for the Wind Orchestra and helped organize the ensemble's tours to Australia, New Zealand and Vancouver.
After graduation, Tindel started working at HP as a software engineer. He earned a Master of Business Administration and a Master of Science degree in finance at the University of Denver, then took a job as a solution architect with Red Hat in New York City. Since, he has entered the startup world with stints at Cloudera and now MongoDB.
Keagle continued to study music performance after graduation, supporting himself for several years working as a concert sound engineer throughout California. He later moved to San Diego and earned a Master of Science degree in computer science while working for the Department of Defense at Northrop Grumman. He is now working as a software architect in the medical device industry at BioTelemetry, Inc., a world leader in wireless medical diagnostic equipment.
In 2010 Tindel and Keagle conceived an idea to bring music lessons of the highest quality to junior high, high school, and college/university students around the world. They soon formed Learning from the Legends, a production company and label dedicated to this goal. Their vision is to release DVDs featuring the highest caliber musicians teaching detailed and structured lessons on the standard classical repertoire for their respective instruments. In 2014 they plan to release the first four of these productions, with renowned violinist Lara St. John teaching the Mendelssohn and Bruch violin concertos. Trumpeter Rolf Smedvig, former principal trumpet of the Boston Symphony Orchestra, now with the Empire Brass, will be teaching the Haydn and Hummel trumpet concertos.
More information about the project is on their website.