Music Faculty Featured On Wind Bands Concert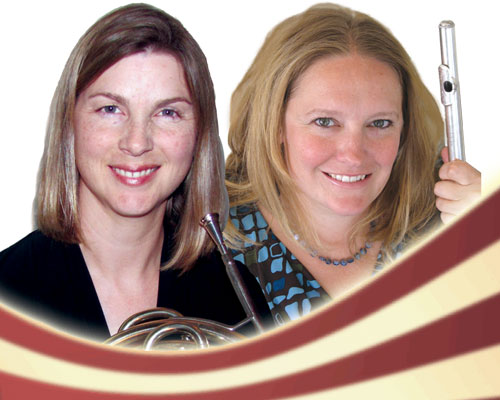 Dodson and Granger

On March 2, the bands presented "Wind Band Masterworks - Volume I: The American Dream," the first in a multi-year series presenting masterworks of wind band repertory. This concert focused on works by American composers and performers, presenting the perfect opportunity for the ensembles to collaborate with members of the Music Department faculty.
Shelly Granger, flute instructor, was featured on Concertino by Cécile Chaminade. While a popular work for flutists of all ages, a truly convincing reading is within reach only by master players. Granger was accompanied for this performance by an intimate Wind Orchestra, reduced to one on a part. A composition in late Romantic style, the orchestration demanded that the players move deftly with each turn of expressive rubato and explore harmonies avoided by most composers of wind band music.
Jennifer Dodson, horn instructor, was featured as a soloist on a lyrical work by Paul Hart, titled "Sunrise." Then as a bonus for an unsuspecting audience, she returned to the stage to narrate Peck-Horn's "Revenge," sharing the plight of the horn player as providing little more than harmonic subdivisions (see Sousa, King, et. al). The moment offered a wonderfully clever and humorous energy to the program.
Music Professor Alyson McLamore narrated W. Francis McBeth's "Of Sailors and Whales." In addition to reading quotes from the source material for the compositions — Herman Melville's "Moby Dick" — she introduced the performance by relating an opportunity she had to work with the composer as a member of the California All-State Band. Included in her introduction was a recording of the composer describing each of the movements.