Adam Theis to Perform On Jazz Night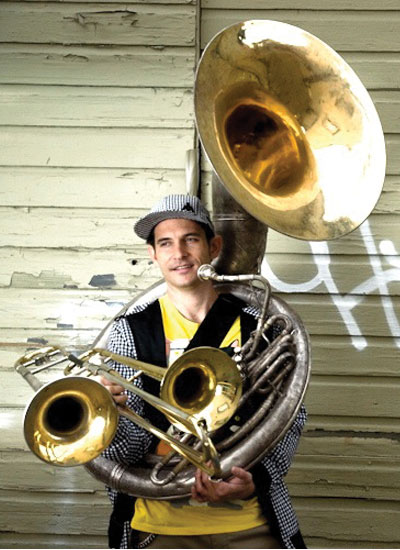 Adam Theis

The leader of one of the nation's most innovative jazz bands incorporating hip-hop into jazz will be the guest artist with Cal Poly's University Jazz Bands for Jazz Night on Saturday, May 19, at 8 p.m., in Harman Hall in the Performing Arts Center.
Trombonist and composer Adam Theis is the prime mover behind a group of jazz bands known as the Jazz Mafia. In 2008 Theis received the prestigious Gerbode-Hewlett Grant for jazz composition. With this commission, he composed a 50-piece one-hour symphony, "Brass, Bows & Beats," which premiered to sold-out audiences in April 2009 at the Palace of Fine Arts in San Francisco. It has since been performed at major festivals across North America, such as the Playboy Jazz Festival at the Hollywood Bowl, Montreal International Jazz Festival, and the Newport Jazz Festival.
The Realistic Orchestra — part of the Jazz Mafia — received wide recognition for its 10-year run on the first Tuesday of every month at "Jazz Mafia Tuesdays" at the Coda Club in San Francisco's Mission District. The band has also taken home SF Weekly's Best of the Bay award for Best Jazz Band.
The big band in the Jazz Mafia is the Realistic Orchestra. Cal Poly's University Jazz Band #1 first played Realistic Orchestra pieces, composed by Theis, in May 2010 with guest artist DJ Logic on turntables. "I am unaware of any other big band that uses hip-hop so creatively and musically," says Paul Rinzler, director of the University Jazz Bands. "The members of the band, as well as our audiences, love the music of the Realistic Orchestra, and we're very happy to have the chance to play some of these pieces with the composer himself, Adam Theis, on trombone."