Cal Poly Student Opera Theatre Partners with OperaSLO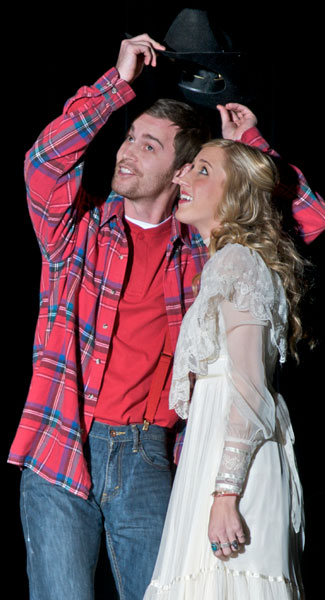 Andrew Redel and Olivia Tenney
in a scene from "Oklahoma"

The Cal Poly Student Opera Theatre had a unique opportunity to work with Brian Asher Alhadeff, Opera San Luis Obispo artistic director, in preparation for three performances of "Classic Scenes from Opera and Musical Theatre."
There were three performances, March 8-10, in the Pavilion of the Performing Arts Center.
Puccini's one-act opera "Suor Angelica" was included, along with scenes from Strauss' "Der Rosenkavalier," Mozart's "Così fan tutte," the mad scene from Donizetti's "Lucia di Lammermoor," and a medley from Rodgers and Hammerstein's "Oklahoma." The repertoire for the event was selected to enable all music majors studying voice to participate.
This newly established "co-opera" with Cal Poly's Student Opera Theatre and OperaSLO is intended to promote Cal Poly's Learn by Doing educational philosophy and OperaSLO's educational outreach programs. Students obtain hands-on stage and performance experience working alongside Alhadeff and OperaSLO's professional orchestra and chorus members. The co-opera creates an efficient use of community resources, and provides emerging student talent for OperaSLO, according to Jacalyn Kreitzer of the Music Department faculty.
Alhadeff served as music director and conductor for the performances. Kreitzer produced and directed musical rehearsals, and Katherine Arthur, Music Department faculty member, stage directed.