New Director of Bands Andrew McMahan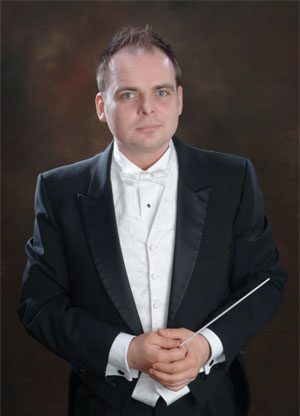 Andrew McMahan begins the 2010-11 season as Cal Poly's new director of bands! He also teaches theory, coaches smaller ensembles, and will teach conducting.
He comes to us from California State University Stanislaus, where he directed the Wind Ensemble, taught courses in conducting and music education, and served as the coordinator of instrumental studies.

Before arriving in California, McMahan spent time at the University of Minnesota, both as a teacher and as a doctoral student. While there, he was the director and principal conductor of the university's second orchestra and was a frequent guest conductor with the Wind Ensemble, Symphonic and University Bands. He also became well known as the announcer and master of ceremonies for the 320-member strong "Pride of Minnesota" Marching Band.

Prior to his time in Minneapolis, McMahan spent four years as the director of instrumental studies, studio trumpet teacher, and instructor of secondary music education at Simpson College, a liberal arts institution near Des Moines, Iowa. He also served as the executive director and founder of the Simpson College Big Band Jazz Camp, a week-long festival of jazz studies held each June.

McMahan received his bachelor's degree in music education from Western Carolina University, his master's degree in instrumental conducting from the University of Wisconsin-Milwaukee, and his doctor of musical arts in conducting from the University of Minnesota. His previous teaching experiences included three years as a high school teacher in both parochial and public high schools in the metro Milwaukee, Wisconsin, area.