Faculty Activities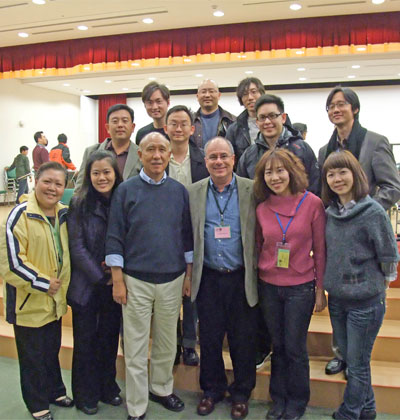 Davies with Dirk DuHei, artistic director of the
Taipei Philharmonic Foundation, and members of the master class

Thomas Davies
Thomas Davies served as director of the Conducting Master Class at the Taipei Bach Festival in Taiwan March 3-15. Ten conductors, all from Southeast Asia, gathered in Taipei to study and conduct Johann Sebastian Bachís "St. John Passion," with master teacher and world-renowned conductor, Helmuth Rilling. Daviesí duties included selecting the members of the master class from DVD submissions, organizing the basic components of the class, and preparing (teaching) the students before their first classes with Rilling. Each summer Davies serves in a similar capacity with the Oregon Bach Festival, held in Eugene, Oregon, in late June and early July. Davies continues his active work as a clinician and adjudicator. In September, he was the guest clinician for the Templeton High School Menís Singing Festival. Students from the high schools of Paso Robles, San Luis Obispo, and Templeton gathered for an active day of rehearsing, with a performance at the end of the day. Davies also spent an afternoon serving as a clinician with the Cuesta College Chamber Singers. In November, he will serve as an adjudicator at the Fall Chorale Festival at Westmont College.
Alyson McLamore
Alyson McLamore wrote program notes and delivered pre-concert talks for the 2010 Festival Mozaic (along with Cal Poly Music alumnus Mike Joiner). Immediately afterward she headed to the wilds of Iowa, where she attended the fourth biennial meeting of the North American British Music Studies Association, a conference held at Drake University in Des Moines. McLamore served on the NABMSA program committed as well as chairing a session that focused on 18th-century British music. She will return to the Midwest in November to attend the 76th annual meeting of the American Musicological Society, convening in Indianapolis. She continues to sit on the Board of Directors for the Mozart Society of America, and, locally, she writes program notes for the San Luis Obispo Symphony, the Cuesta Master Chorale, and the Festival Mozaic's Wintermezzo concerts. Again, she will be delivering pre-concert talks at a number of performances during the 2010-2011 Cal Poly Arts series. On campus, she is glad to be participating on the Susan Currier Visiting Professorship search committee; Associate Dean Currier had been a good friend to the Music Department before her untimely passing. McLamore is also pleased to aid a number of Cal Poly seniors as they stagger toward graduation; she is supervising program notes for several recitals, as well as overseeing some intriguing student research projects. And, New Year's Day will again see McLamore taking a 5-1/2-mile stroll down Colorado Blvd. in Pasadena, as she assists with the Tournament of Roses Honor Band.
Ross T. Sears
Ross T. Sears, percussion instructor, began the summer recording for the Pacific Conservatory of the Performing Arts (PCPA) production of "West Side Story." Prior to that, two of his students performed their senior recitals: Courtney Wolfe and Scott Charvet. He performed timpani for the final concert of Festival Mozaic's season on Berlioz's "Symphonie Fantastique." Immediately following that, rehearsals began for "Songs for a New World," another PCPA Theatrefest production, which ran six weeks. The musicians played on stage, and Sears played drumset and congas. Fall quarter began one week later, with Matthew Williams doing his pre-recital and Courtney Wolfe making her debut with the San Luis Obispo Symphony, playing timpani II for Mahler, Symphony No. 1. Sears also made his debut with the Santa Maria Philharmonic in the same week.