Message from the Chair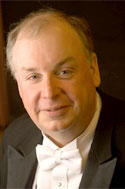 I was always taught that it was important to say thank you. I've come to understand that there are many reasons why expressing appreciation is vital to a successful and decent life. Essentially, I believe that it boils down to what Jean Baptiste Massieu said: "Gratitude is the memory of the heart."

Much of the success (and survival) of our department depends upon the support, guidance, and perserverance of campus leaders outside the department. Three of these friends—President Warren J. Baker, Dan Howard-Greene, and Peter Wilt—have retired/are retiring from Cal Poly. I'd like you to know a little about their contributions to our program and why we're grateful to them.

President Baker's contributions to the music program are truly on a grand scale. Without him, there would not be a music major. We wouldn't have a glorious Performing Arts Center. And we wouldn't be such an outstanding university.

Howard-Greene was Cal Poly presidential chief-of-staff. This meant he was responsible for overseeing all the small details—of simply everything. His calm, cool, and thoughtful counsel has saved our campus (and me!) from many problems. And, he always managed to find extra support for us when we had special performance opportunities.

Peter Wilt worked for Cal Poly Arts and managed the Spanos Theatre. He made dozens of department performances possible, organized free presentations by visiting artists, and helped our students get tickets to many concerts.
These friends have been instrumental to our successes. We thank them for all that they've done, and wish them happy, lengthy and healthy retirements.
W. Terrence Spiller, Chair