Vocal News
Jacalyn Kreitzer, Quarterfinalist for Grammy Music Educator Award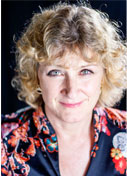 Jacalyn Kreitzer was selected as a quarterfinalist for the Music Educator Award presented by The Recording Academy and Grammy Foundation.
The Music Educator Award was created to recognize music educators in kindergarten through higher education "who have made a significant and lasting contribution to the field of music education and who demonstrate a commitment to the broader cause of maintaining music education in the schools."
Kreitzer was among 222 quarterfinalists, selected from more than 7,000 national submissions. Semifinalists were announced in September. Ten finalists will be selected, and the winner will receive a $10,000 honorarium during Grammy Week 2015. All finalists' representative schools will receive a matching grant.
A mezzo-soprano, Kreitzer has taught applied voice and performance at Cal Poly for 19 years. She also conducts private lessons, teaching and coaching classical voice, musical theater and alternative voice, and works to help repair damaged voices.
As founder of the Cal Poly Student Opera Theatre, Kreitzer has produced operas such as Purcell's "Dido and Aeneas," Haydn's "The Apothecary," and Strauss' "Die Fledermaus." As artistic advisor for Opera San Luis Obispo, she has collaborated in such productions as Puccini's "Suor Angelica" and Mozart's "The Magic Flute."
She has sung with some of the world's greatest houses and symphonies, including the Deutsche Oper Berlin; the Metropolitan Opera and Carnegie Hall in New York; Los Angeles Philharmonic; Théâtre du Châtelet in Paris, France; Gran Teatre del Liceu, Barcelona, Spain; Lyric Opera of Chicago; San Francisco Opera; New York City Opera; Los Angeles Music Center Opera; the St. Paul Chamber Orchestra; the Minnesota Orchestra; and the Pittsburgh Symphony.
The April 2015 co-opera of Cal Poly's Student Opera Theatre and Opera San Luis Obispo is Lehar's"The Merry Widow." Your contribution to help put on this complete production is greatly appreciated. Use the donation form or donate securely online by visiting our support page and select "Student Opera Production Fund."
Kathleen Magee Querec: Alumna Returns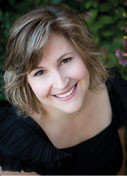 Cal Poly alumna and soprano Kathleen Magee Querec will return to her alma mater as guest artist in the Cal Poly Choirs' Winter Concert at 8 p.m. Saturday, March 7, in the Performing Arts Center. Titled "Romance and the Romantics," the concert will feature works by Johannes Brahms, Franz Liszt, Morten Lauridsen and Eric Whitacre.

In 1990 Magee Querec earned a Bachelor of Science in art and design with a concentration in graphic design and a minor in music. She was active in the choirs since her first quarter and was encouraged by Director of Choral Activities and Vocal Studies Thomas Davies to pursue singing as a career.

In 1993 she earned a Master of Music in voice from Northwestern University in Evanston, Ill. At the age of 23, she was a regional finalist with special recognition in the Metropolitan Opera National Council auditions in Chicago. Her first major role was Adele in "Die Fledermaus" with the Indianapolis Opera in 1996. She was accepted into Florida Grand Opera's Young Artist Program in 1999 and sang major roles including Gilda in "Rigoletto." In 2000, she was invited to join the Glimmerglass Opera and, after two summers with them, decided to move to New York City. She made her debut with New York City Opera (NYCO) in 2003, singing Yvette in Puccini's "La Rondine," followed by Barbarina in "Le nozze di Figaro," Frasquita in "Carmen," Zerlina in "Don Giovanni" and Amy in Mark Adamo's "Little Women" with NYCO's premiere tour of Japan.

In 2007, Magee Querec moved upstate for a more "normal" life. She has been teaching since 2008 and is happy to be back in California, living in Grass Valley.

Vocal Scholarship Winners
Billy Watson Scholarship Winners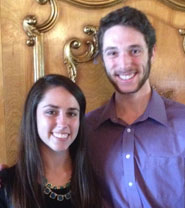 Shaina Levin and Mark Mendez

The winners of the San Luis Obispo Rotary Club's 2014 Billy Watson Memorial Scholarship are music major Shaina Levin ($3,000) and music minor Mark Mendez ($1,000).
Both Levin and Mendez study voice with Jacalyn Kreitzer. The two winners performed at the Madonna Inn for the Rotary Club last springaccompanied by Paul Woodring.
Billy Watson was a prominent San Luis Obispo Rotarian, educator and musician. After his death in 1981, the Rotary Club of San Luis Obispo founded the Billy Watson Memorial Music Scholarship Fund to aid musicians in financing their college education.
Barbara M. Jones Music Scholarship Winner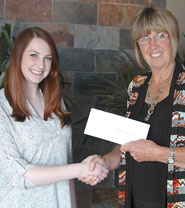 Alexis Rubell and Connie Jones Pillsbury

The 2014-15 winner of the Barbara M. Jones Music Scholarship for $4,500 is Alexis Rubell, a 4th-year student from Valencia, Calif. She studies voice with Katherine Arthur and conducting with Thomas Davies. Connie Jones Pillsbury (pictured with Rubell at left) established the annual Cal Poly scholarship in honor of her mother, Barbara M. Jones, in 2007.