Alumni Update
Keep in touch with your fellow alumni!
Russ Cummings
(B.A., Music, 1999; B.S., Aerospace Engineering 1977 • Piano Ensemble 1990-99)
I attended the St. John's College Summer Classics short course The Essence of Opera. The course was taught at the Santa Fe campus by William Fulton and Andy Kingston and included watching performances of three operas at the Santa Fe Opera: Mozart's "The Impresario," Stravinsky's "Le Rossignol," and Beethoven's only opera, "Fidelio."
Marlene Carr Fissell
(B.A., Education, 1963 • Glee Club 1962-63)
I sang in Cal Poly Glee Club with "Davy" Davidson and participated in banjo/guitar jams in the theatre. I still have my Glee Club patch and would love to have a reunion with some of my fellow Glee Club members from the 1960s, like the Collegians do every year! Since moving back to San Luis Obispo to be near family, I have become a part of a band called Heart and Soul that plays weekly for the wheelchair communities around the county. I also sing in various groups and play piano/organ for churches as a sub. Music every day in my life!
Larry Litchfield
(B.S., Journalism, 1958 • Glee Club, 1953-58; Majors and Minors Barbershop Quartet)
I sang baritone and was under the baton of "Davy" Davidson. I wrote the "blurbs" that were printed on the back of our record albums and went on five tours. We only had about 1,500 all-male students in 1958. The absolute highlight of my Cal Poly experience was my five years in the Men's Glee Club (president in 1958).
It took me an extra year to graduate because I was the only Cal Poly student to have polio. There was fear of contagion throughout campus. When I started having symptoms, I believe my roommate, Ed Slevin, (past student body president) arranged through his uncle Julian McPhee — Cal Poly's president at the time — to have the campus doctor examine me. He made the confirmation after a spinal tap. I went home to San Diego for treatment.
I'm now retired, widowed, and have one daughter. I currently sing barbershop (lead/former tenor) in the Las Vegas Silver Statesmen Barbershop Chorus, the largest a cappella men's chorus in Nevada. My career path spanned journalism, public relations and association management.
My friend Dave Kennedy, also a retired widower, and I are known by our aliases: the Great Geezer Getaway Guys. Visit and enjoy our website: geezergetaways.org.
Dave and I are planning a California trip, and we plan to visit my alma mater in the fall. I haven't been on campus in decades.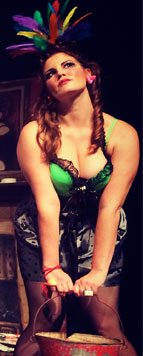 MacKenzie on stage
in Portugal

Claire MacKenzie
(B.A., Music, 2013 • Arab Music Ensemble, Early Music Ensemble, PolyPhonics, Student Opera, Symphony, Wind Ensemble)
I was "An Absolute Artist" in the 2014 Napa Music Festival, where I collaborated with other young artists and specialists from the Metropolitan Opera, San Francisco Opera, and Merola, to present a series of recitals and opera performances. In the festival closing, I made my debut as Mrs. Herring (Mum) in Benjamin Britten's comic opera "Albert Herring," with full festival orchestra and staging. I then went on to collaborate with musicians and directors from around the world in a series of concerts and performances organized by the 2014 Zêzere Arts Festival in Portugal. The festival culminated in a fully staged performance of Rossini's dramma giocoso, "La Cenerentola" (Cinderella), in which I made my debut as Tisbe, the younger of the two stepsisters. In the coming months, I will perform in a series of concerts in the Bay Area and on the California Central Coast to raise funds for my upcoming auditions for master's programs at the San Francisco Conservatory of Music, Juilliard Conservatory of Music, Bard College Conservatory of Music, Guildhall School of Music and Drama, and the Royal College of Music in London.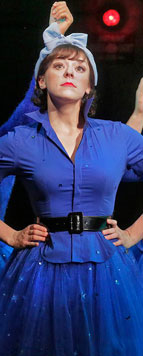 Stallings in 'The Magic Flute'
in St. Louis, Mo.

Corrie Stallings
(B.A., Music, 2009 • Early Music Ensemble, PolyPhonics, Student Opera, University Singers)
I will be performing Bertarido in Handel's "Rodelinda" and Mercedes in "Carmen." I'll also be the soloist in Mozart's "Requiem" with the Erie Philharmonic in April. I performed the role of third lady in "The Magic Flute" with Opera Theater of St. Louis, under the direction of Isaac Mizrahi and the baton of Jane Glover. I also covered Stephanie Blythe as Gertrude Stein in Ricky Ian Gordon's world premiere of "27." I was a soloist in the Chicago Symphony Orchestra's 2013 holiday show "Welcome, Yule!" and covered the alto solos in Bach's Mass in B Minor under the baton of Riccardo Muti. This past year, I won third place in the Metropolitan Opera National Council regional auditions and was a regional finalist in 2013. In 2012, I was the alto soloist in Handel's "Messiah" with the Colorado Symphony in Denver.