Faculty Activities
Alyson McLamore
Professor Alyson McLamore traveled to the wilds of Las Vegas during the summer of 2014 to chair two sessions at the biennial meeting of the North American British Music Studies Association. One session, titled "Critical Reflections: Burney and Tovey" looked at pioneers of music study from two different eras, and the other session, "The Musical Sherlock Holmes," examined the musical experiences of both Sir Arthur Conan Doyle and his literary creation. This trip was also an opportunity to evaluate music alumnus Jon Robert Hall (B.A., Music, 2010) in his role as Stacee Jaxx in "Rock of Ages;" the consensus is that Hall advances to 450 (the highest applied music level for music majors)!
McLamore also contributed program notes and pre-concert lectures for the Festival Mozaic during the summer. This fall, she is writing for the San Luis Obispo Symphony, the Cuesta Master Chorale, and the Festival Mozaic's Wintermezzo series and will deliver a pre-show lecture for Cal Poly Arts' presentation of "Chicago." New Year's morning will again find her serving as assistant director of the Tournament of Roses Honor Band in the Pasadena Rose Parade, and Jan. 2, 2015, will mark the beginning of a two-quarter sabbatical.

Paul Rinzler
Paul Rinzler, director of the jazz studies program, recently created and taught a new class titled "Humanistic Values in Jazz." The class is part of the Music Department's Music and Society series of classes that focuses on specialized topics and explores music historically and culturally. The course is founded on Rinzler's most recent book, "The Contradictions of Jazz" (Scarecrow Press, 2008).
Rinzler's class examines how four pairs of humanistic values (individualism and interconnectedness, assertion and openness, freedom and responsibility, and creativity and tradition) are expressed in jazz. For instance, individualism is expressed in jazz through the ever-present improvised solo, in which a single musician is given the task of improvising a melody. At the same time, individualism's complementary value, interconnectedness, is also common in jazz, notably during an improvised solo when the rhythm section and the improvising soloist may engage in a musical conversation, trading ideas back and forth, even while the individual is still improvising.
Each pair of values is opposed in a central way. For instance, improvisers are expected to be creative, to improvise something new and different. The value of tradition, however, defines the opposite of creativity: not what is new, but what has already been successful and accepted in the past. Jazz would not be a recognizable idiom without a tradition that defined it, yet creativity is clearly a crucial value in jazz as well.
The course is open to music majors and non-music majors, and fulfills one of Cal Poly's general education requirements.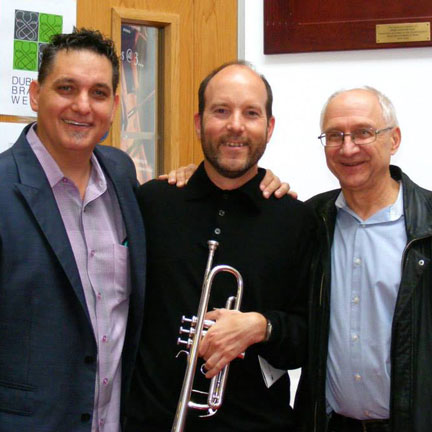 Woodruff betwen Rex Richardson and Anthony Plog
Christopher J. Woodruff
Christopher J. Woodruff was invited to participate in the second annual Dublin Brass Week, hosted in July at the Royal Irish Academy of Music in Dublin, Ireland. The workshop was designed to allow professional and pre-professional brass players the rare opportunity to perform and work with master artist-teachers in an artistically intense, yet collaborative setting. Sessions included mock auditions, solo competitions, and orchestral section playing, as well as open master classes. This year's faculty included trumpet luminaries Rex Richardson, John Wallace CBE (Commander of the Order of the British Empire) and Anthony Plog. (Plog gave two presentations at Cal Poly on Nov. 7: a brass master class and a lecture titled "The Successful Student Musician.") Over the course of the week, Woodruff performed in concerts as part of the Kaleidoscope Series across Dublin as well as at St. Stephen's Church.
In addition to his activities abroad, Woodruff has assembled a roster of 222 performers to comprise the fall 2014 Mustang Band — the largest marching band in Cal Poly history! The group was selected by audition — live and via the Internet — and was announced at the beginning of August. In addition to its regular appearances marching for Cal Poly football, the band will continue to perform a full schedule at home for three other NCAA teams: volleyball, women's basketball and men's basketball. Following its award-winning performance this past February, the Mustang Band plans to march in the upcoming San Francisco Chinese New Year Parade on March 7, 2015.