Message from the Chair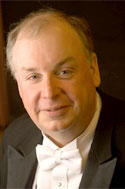 Each of our lives has an individual soundtrack, one that evolves out of today's world, where music has a near ubiquitous presence. The playlist for our soundtrack comes not only from our changing and evolving musical tastes, but also from places, events and people. An individual piece of music can bring back a sense of time, place, activity and emotion. I have that association with a work by Brahms — his Intermezzo in C-sharp Minor, Op. 117, No.3 — and with Bill Peterson, our late Music Department alumnus (article on In Memoriam page).
Bill was one of our first music majors, and one of my first Cal Poly piano students. He was bright, creative, enthusiastic, open-minded — and had a wonderful laugh. Even though he had little experience in classical repertoire, he threw himself mightily into this piano-playing challenge. He brought great fervor, imagination and musical integrity to the task. He also brought injuries from roller hockey, but that's another story …
I assigned the Intermezzo to Bill as a "challenge" piece — and he rose to the occasion. It is a complex work that requires subtle music-making and a flexible piano technique. Bill labored over this piece for many months and developed the technique and understanding to play it well. His achievement with the Intermezzo remains a joyous satisfaction for me and is a highlight of my early teaching career.
I am reminded of the sense of perpetual discovery that is a reward of teaching, where the roles of teacher and student happily blur. And I think of my student and friend Bill and am grateful for the time we spent together.
W. Terrence Spiller, Chair