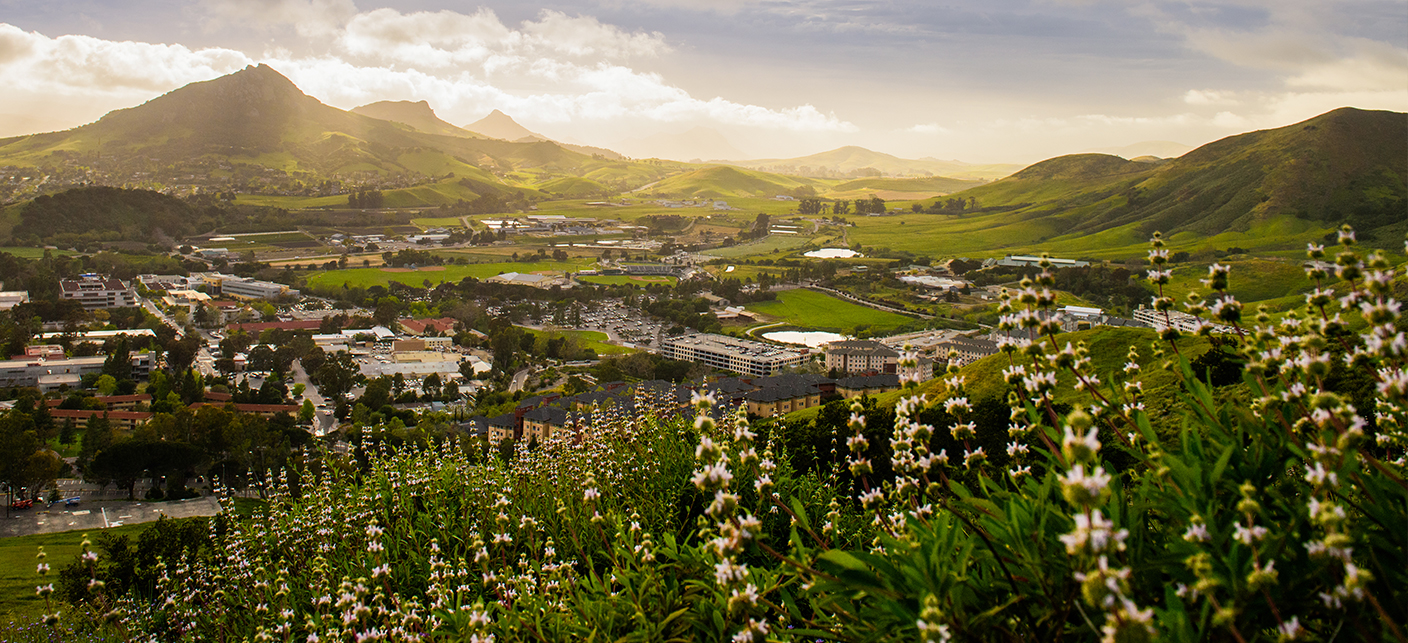 "San Luis Obispo is amazing place for a musician to grow. It really supports creative art and music." —Christine Tavares Mocha (Music, '01), jazz vocalist, educator
Applying to Cal Poly
Auditions
In the Music Major
Answers to FAQ
How do I apply?
Applying to the music major is a two-step process: 
First, apply to Cal Poly! Undergraduate applications are open from Oct. 1-Nov. 30. Go to the Cal Poly Admissions Office Website for more information about applying to Cal Poly.
Second, if your application meets CSU/Cal Poly eligibility criteria, you will then be invited in early January to complete the Music Department's supplementary application and perform an audition.
Are there scholarships or tuition waivers available for music majors?
Music Department scholarships are awarded to new and continuing music majors. New students auditioning in person should request a scholarship when they submit the Department's supplementary application. Scholarships generally range from $500 to $2,400 per year and are awarded on the basis of musical and/or academic achievement; students audition each year at Cal Poly and have the chance to increase their scholarship. Department scholarships are awarded in addition to Cal Poly's Financial Aid.
Cal Poly requires a declaration of major with the admissions application. Do I need to declare a music "concentration" as well?
Cal Poly offers a Bachelor of Arts in Music. You can choose from a wide variety of electives to give your studies a specific focus, but students are not required to choose an official concentration.
I've heard it is very hard to be accepted to Cal Poly. Is that true?
Cal Poly shares GPA ranges and acceptance rates on our First-Year Student Profile and Transfer Student Profile pages. Entrance requirements vary by major, but if accepted to Cal Poly, you would join an inquisitive and motivated student body! Prospective students are encouraged to apply themselves academically in high school and perform well on standardized tests.
What classes should I take in high school to be a strong candidate for the music major?
Make sure to visit Cal Poly's list of High School Course Requirements. If your high school is in California, your guidance counselor likely shared these requirements with you already. Successful candidates for the music major should also have experience performing in high school ensembles or youth orchestras and have an understanding of music notation. AP Music Theory is not required, but would give you added confidence in our Music Theory sequence.
What should I prepare for my audition?
You should prepare two contrasting pieces that add up to no more than eight minutes. These can be contrasting as fast/slow, or in some other way. You should choose music that shows us you can perform successfully in one of the Music Department's major ensembles (orchestra, wind orchestra, wind ensemble, jazz big band, choirs, and Arab music ensemble) on the instrument that you play at the audition, or by singing if you audition as a vocalist. Make sure to ask your high school director or private teacher for advice and work with them to prepare! Learn more about our audition process.
Do I need to play piano to get into the music major?
You do not need to play piano to get into the music major; you will be placed in an appropriate piano class based on your previous experience. In the music major, you will be expected to reach a certain level of competence at the piano, and we will help you get there through our Piano Skills classes.
What is the "music theory assessment" at my audition?
As part of our audition process, you will take a music theory test in two parts: one required and one optional.
A music reading​ assessment that is required of all auditioning students and is considered part of the audition process. This part includes:
Identifying notated pitches in treble, bass, and alto clefs
Notating pitches in treble, bass, and alto clefs
Filling in missing barlines to create correct rhythm in simple and compound meters
Identifying major and minor keys using key signatures
An optional test that will allow a student to pass out of MU 101 but is not required as part of the admission process. This part includes:
Correct notation of Major and minor scales, intervals and their inversions, triads and seventh chords
Basic Roman numeral analysis
Identification of meter types
Identification of ecclesiastical (church) modes
You may find free tutorials and exercises to help you prepare online at sites such as Teoría and musictheory.net, among others.
Can I visit the Music Department, meet the professors and talk to current students?
We encourage you to visit Cal Poly and talk to our professors and students at any time. Many students get in touch with individual faculty members who teach in an area of interest, or contact the office to set up a visit. You can coordinate your visit with a campus tour as well. While you are here, a member of the faculty can help you meet current students.
Can I take a trial lesson with a Music Department instructor?
The instructor-student relationship is one of the most important aspects of the music major. We encourage prospective students to contact our instructors to set up a visit and trial lesson. Information about our instructors, as well as contact information, can be found in our list of Applied Faculty.
Can I double major in music?
Yes, depending on the other major. Students enter Cal Poly with only one major and add a second major after enrollment. While Cal Poly is an academically rigorous institution, some of our students have successfully combined Music with Engineering, Psychology, Mathematics, or another of the university's many majors. Our faculty help students through the process. Of the six colleges at Cal Poly, two have easily accessible guidelines on double-majoring: College of Liberal Arts and College of Science and Mathematics (scroll down). If you are interested in a major outside of these colleges, please contact the department office of that major.
How does Cal Poly prepare me to be a music educator?
We're glad you asked! You will find our graduates introducing children to the world of music, encouraging middle schoolers to follow their artistic dreams and helping high school students design a future that includes the arts. Please visit our Music Education page to learn how the music major at Cal Poly will prepare you to be an educator.
Can I study abroad as a music major?
Yes! Cal Poly offers a variety of opportunities to study abroad, from faculty-led Cal Poly Global Programs to traditional study abroad with partner programs. Visit our Study Abroad page for more information.
Are there opportunities in the community to perform and/or intern to supplement my academic work?
Music majors often pursue opportunities in the local community that match their interests, from performing at small venues to interning with the professional technicians at the Performing Arts Center. Students teach young string players for the San Luis Obispo Symphony's Strings in the Schools program and are recommended for many other calls our office receives. San Luis Obispo is a picturesque town—recently dubbed the "Happiest City in America"—with a vibrant and thriving arts scene.
Still have questions?
Please contact us!