Life After Teaching at Cal Poly
William Johnson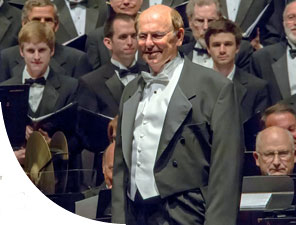 The first thing I learned after retirement is that there is no such thing as retirement for people who have been active in their profession. For me it has just been a change in direction with different challenges and different priorities. I must say, however, I miss being a part of the thriving Music Department and being surrounded by incredible colleagues and highly intelligent and talented students. I am thrilled that Andrew McMahan and Christopher Woodruff have taken our university band program to new artistic levels, performing concerts and halftime shows that I could only dream about.
Of course, my top priority is being supportive of my family with a special interest in being a good "papa" to my eight grandchildren, ages 2 through 13.
I am now a member of the board of directors for three professional musical organizations: the World Association for Symphonic Bands and Ensembles (WASBE), the American Bandmasters Association (ABA), and Opera San Luis Obispo (OperaSLO). I also continue to guest conduct and have launched a career as a musical arranger, transcriber and composer.
At the end of July, I will become president of WASBE for two years. As president, I will preside over a regional conference in Prague in 2016, and an international conference in Utrecht, Netherlands, in 2017. WASBE is an international association of wind band conductors, composers, publishers and performers from more than 50 countries. We strive to provide our members with many resources including international and regional conferences, information about new repertoire, commissioning new works for wind band, organizing conducting seminars and workshops, publishing a magazine and a journal, and much more.
The ABA is one of the most prestigious band organizations in the world. It was founded by Edwin Franko Goldman and others in the 1930s, with John Philip Sousa as its honorary life president. The organization held its annual convention in San Luis Obispo in 2007 and will return March 2-5, 2016, for its 82nd convention. This convention will include delegates from the Japan Bandmasters Association. The Music Department will sponsor a four-day music festival during the convention with feature performances by the Cal Poly Wind Ensemble and Wind Orchestra along with ensembles from Japan and the U.S. One of the highlights will be a performance by the U.S. Army Field Band from Washington, D.C. The Iota Pi Chapter of Kappa Kappa Psi will be the organizers of the convention's activities.
As a member of the OperaSLO board of directors, I have an opportunity to be part of some wonderful opera productions in our community, most recently, a performance of Giuseppe Verdi's "Aida." We are also assisting Cal Poly in its production of Franz Lehár's "The Merry Widow."
I have become a transcriber and arranger of music for the wind band. On Easter Sunday my transcription of Nikolai Rimsky-Korsakov's "Russian Easter Overture" will be performed in Orchestra Hall in Chicago by a very fine university wind ensemble. My arrangement of several of the a cappella choral works of Sergei Rachmaninoff's "Vespers, Op. 37" have been performed by the Cal Poly Wind Orchestra, the Fresno State Wind Ensemble, the Tennessee Tech Wind Ensemble, and numerous other ensembles. I have also transcribed Ottorino Respighi's "Ancient Airs and Dances, Suite No. 1" and the second movement of Vasily Kalinnikov's Symphony No. 1. The San Luis Obispo Wind Orchestra, under the baton of opera conductor Brian Alhadeff, will perform my wind band arrangement of Pietro Mascagni's "Regina Coeli" from the opera "Cavalleria rusticana."
I am currently working on an original composition for Cal Poly titled "Centennial Jubilee," a celebratory work that includes all five of the Cal Poly songs as melodic motives. This will be in celebration of the 100th anniversary of the Cal Poly Bands and the 50th anniversary of me becoming director. If all goes well, the new work will be premiered at the spring band concert in June 2016. Director of Bands Andrew McMahan is considering the formation of an alumni symphonic band for this celebration. More to be announced later!