Student News
Student Awards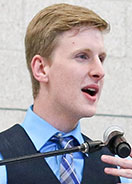 Corey Hable
Music major Corey Hable was recognized by Cal Poly Arts and the College of Liberal Arts for Excellence in Original Work. The College of Liberal Arts celebrated award recipients at its annual Student Awards Reception on June 12. "When Corey first showed me his composition titled 'Et le Poète dit' ('And the Poet said'), I was taken by what a mature work this was for one just starting out on his composing journey," said Thomas Davies, director of choral and vocal studies. "It was such a pleasure to have PolyPhonics perform such a beautiful work in our Winter Concert. There was an immediate standing ovation from the audience. Well deserved!"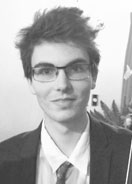 Troy Hanson
Music major Troy Hanson is the 2015 winner of the Rotary Club's $3,000 Billy Watson Memorial Scholarship Award. The award was presented at the club's annual Scholarship Day on Monday, May 18. He and his accompanist (music major Kevin Glass) performed for the club members and other scholarship winners. Hanson studies bass with Cal Poly faculty member Ken Hustad. He is a member of the Cal Poly Symphony, the University Jazz Band, and the Arab Music Ensemble. In addition, he often performs with the San Luis Obispo Symphony, San Luis Obispo Wind Orchestra and other community organizations.
Rose in Dublin
By Rose Doylemason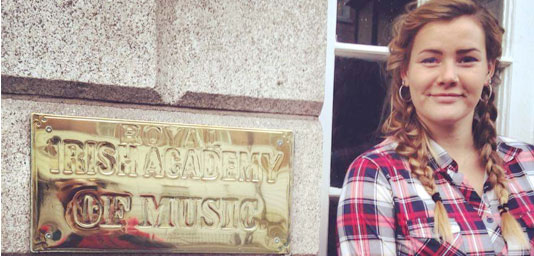 This summer I had the amazing opportunity to study music in the beautiful Irish capital of Dublin. As a participant in Dublin Brass Week, I was exposed to nearly a dozen professional orchestral, studio and commercial players from around the world. The 12-hour days were a mix of private lessons, master classes, sectionals, and performances around the city led by the incredible staff of Dublin's Royal Irish Academy of Music. My peers consisted of advanced high school, undergraduate, graduate, and professional musicians from throughout Europe and the U.S., many winners of brass competitions and coveted seats in orchestras. Trombones, trumpets and French horns each had their own star-studded staff of professionals, including: Los Angeles film industry-great Malcolm McNab (trumpet), world-renowned pedagogue and performer Frøydis Ree Wekre (horn), and former principal trombonist of the Vienna Philharmonic Ian Bousfield.
Perhaps the most important lesson I learned from my immersion in the program is that there are two distinct halves of a musician: technical prowess and musicality. Without one, the other is meaningless, and careful practice of both is the only way to ensure success.
I finished the week with many more friends, hungry for more hours in the day during which to practice, and eager to see the rest of what Ireland and its witty, friendly people had to offer. To put it simply, I came, saw and realized how much I needed to practice, and I shrank back into my San Luis Obispo practice room and haven't come up for air since. I highly suggest the Dublin Brass Week to any brass player and am indebted to our own
Professor Christopher Woodruff for encouraging me to pursue this program.