Symphony Collaborated with Orchesis Dancers and Featured Soloists on Winter Concert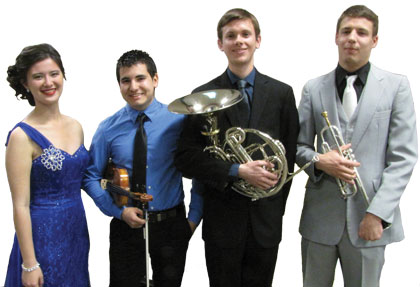 Allison Chang, Mario Ojeda, Andrew Arensman and Dylan Weddle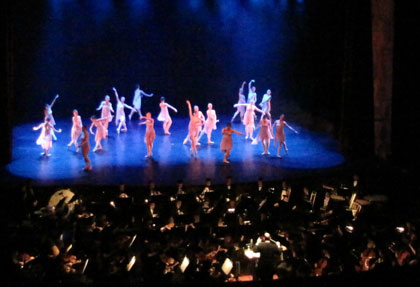 On March 9, the Cal Poly Symphony celebrated the talents of student soloists and the members of the university's Orchesis Dance Company.
The Student Soloist Showcase included performances by winners of the Music Department's Solo Competition. Mario Ojeda played Mozart's Violin Concerto No. 3 in G, first movement; Andrew Arensman played Mozart's Horn Concerto No. 4 in E-flat, first movement; and Dylan Weddle played Henri Tomasi's Concerto for Trumpet, first movement.
Vocalist Allison Chang sang "Voi che sapete" from Mozart's "Le nozze di Figaro."
The program also featured Bedrich Smetana's "Vltava" and Arturo Márquez's "Danzón No. 2." Both works featured classical and modern dance choreography performed by Orchesis, Cal Poly's oldest concert dance organization.