Alumni Update
Keep in touch with your fellow alums!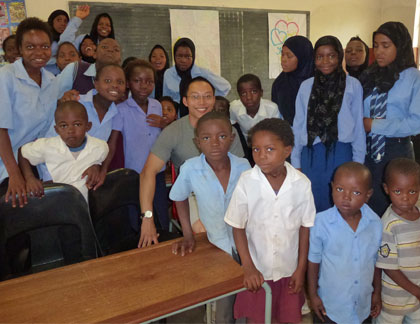 Ted Shu (center) with students at Rooikoppies Primary, in the
mountains outside of Tzaneen, South Africa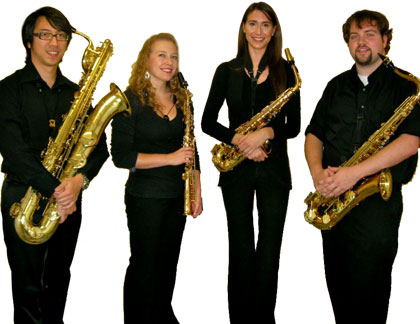 Lauren Wasynczuk (second from right) with her quartet at The Hartt School
Nancy Chancellor
Nancy Chancellor (Selby) (1979 Business Administration, 1975-78 Glee Club) I have a new job as Raiser's Edge Administrator for the Ann and Gordon Getty Foundation. Just moved back to Southern California from Hawaii.
Thomas Diskin
Thomas Diskin (Industrial Technology 1971, 1966-71 Chamber Orchestra, chamber ensembles) I am now retired from my teaching position at College of San Mateo, where I taught a variety of classes in electronics technology. My last effort there was to develop a program in solar energy. I am now much more involved in music as a cellist, including with the Shasta Symphony and the Paradise Symphony. I also am playing in a string quartet. I am pursuing a lifelong love of music by hosting and producing a classical music program on a local community radio station, KKRN. I'm loving sharing my love of music with my community and the world at large (thanks to the Internet and the miracle of streaming). I would love to get back in touch with my Cal Poly music friends Judy Tate, Ellen Stephens, Michael Poleinski and many others!
Ted Shu
Ted Shu (2009 Music, 2005-09 Clarinet Ensemble, Wind Ensemble, Symphony, Wind Quintet) From January 2010-March 2012 I had the honor of serving in the Peace Corps in South Africa. I taught music, math, English, computer skills, and wrote grants for a nonprofit organization dedicated to helping victims of rape and abuse. When I arrived at the elementary school where I was assigned to teach music, I realized I had left an important resource at home — the binder of music lessons I had made while in Dr. McLamore's Music for Classroom Teachers course! Next time I will be sure to bring it.
My experiences there challenged my perception of myself and of my own country, causing me to rethink many American ideals and values. Although I have only been back in the U. S. for a year, I know that the experiences I had in South Africa will enrich the rest of my life.
Thankfully I had access to musical facilities that literally saved me from losing my mind. In a country I barely knew, I relied on my musical skills and knowledge to spread understanding of Americans and to teach values like diversity and tolerance. Like the Cal Poly Music Department, South Africa will always hold special memories of friends, teachers and music.

Lauren Wasynczuk
Lauren Wasynczuk (2012 Music, 2007-12 Wind Ensemble, Saxophone Ensemble, Symphony, Chamber Winds, Wind Quintet) Graduate school at Hartt has been keeping me very busy. My saxophone professor, Carrie Koffman, placed me in a wonderful saxophone quartet with the other three new graduate students. I'm playing alto and I'm enjoying getting more experience playing a different part, especially since I played soprano primarily at Cal Poly. Collectively we came up with a name for our quartet — La'Ventus. It means winds from different sides in Latin. Our name works based on where we stand when playing; and also, each member in our quartet is from a different part of the world. We entered the Music Teachers National Association (MTNA) Chamber Competition and were selected as the Connecticut state representative to compete at the semi-final round in Columbia, Md., on Jan. 5. We also performed at the 36th International Saxophone Symposium on Jan. 4, so were pretty busy traveling that long weekend.
We're now working on our pre-screening CD/DVD for the J.C. Arriaga Chamber Music Competition (Stamford, Conn.) and the 2013 Fischoff National Chamber Music Competition (Notre Dame, Ind.). We've been invited to perform in July at the 2013 Festival Internazionale del Sassofofo (International Saxophone Chamber Music Festival) in Faenza, Italy, where we will perform a series of concerts throughout the region. It'll be my first time traveling to Europe, so I'm thrilled for this amazing opportunity!
Outside of school, I was fortunate to be offered a conducting job with the Yevshan Ukranian Vocal Ensemble of Hartford. The vocalists are incredible, and it's a privilege to work with such a supportive and hardworking group of individuals. Their personalities and work ethic remind me so much of the Cal Poly Music Department and San Luis Obispo Wind Orchestra, and I'm enjoying my time working with them very much.
Matthew Webb
Matthew Webb (2010 Biological Sciences, 2006-10 Wind Ensemble) Currently attending the USC Keck School of Medicine.