Cal Poly Students Partner with Opera San Luis Obispo in Mozart's 'The Magic Flute' April 11-13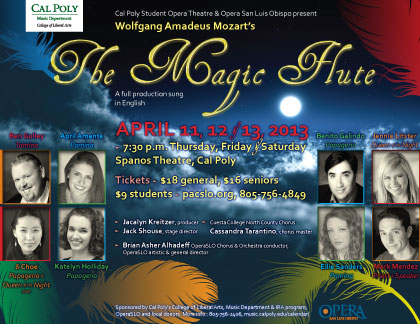 Cal Poly's Student Opera Theatre and Opera San Luis Obispo will present the second "co-opera" collaborative partnership in a full production of Mozart's "The Magic Flute" at 7:30 p.m. Thursday, Friday, and Saturday, April 11-13, in the Spanos Theatre on campus.
The co-opera pairs outstanding student singers from Cal Poly's Music Department performing lead roles alongside internationally acclaimed opera singers. Select student instrumentalists will also perform with OperaSLO's professional orchestra.
The collaboration features members of the Cuesta College North County Chorus under the direction of Cassandra Tarantino. The performances will be sung in English with projected supertitles.
The two-act opera is a supernatural fantasy that weaves together an unusual combination of comical and serious characters: magic animals, a serpent, an evil queen, a maiden in distress, two bird catchers, and a prince.
Accompanied by a 38-piece orchestra, a 35-voice choir, and a large number of principal and supporting roles, "The Magic Flute" guarantees stage time for all Cal Poly Music Department voice emphasis music majors. Cal Poly singers and professional singers Ben Gulley, April Amante, Benito Galindo, and Jennie Litster will alternate performance nights.
Students Ellie Sanders and Katelyn Holliday sing two of the lead roles: Sanders as Pamina, the Queen of the Night's daughter, and Holliday as Papagena, who helps Papageno find true happiness. Shaina Levin, Allison Chang, and Leah Ginsky are the Three Ladies in service of the Queen. With voices of angels, the Three Spirits, Alexis Rubell, Taylor Safina and Lauren Moore, lead Prince Tamino — biochemistry major Ryan Hicken — to the Temple of Sarastro. English major Mark Mendez is his Priest and Speaker. Monostatos, a servant of the Queen, is sung by music major Andrew Redel and aided by Slaves played by Earvin Ramos and Jacob Nichols, also music majors. Cal Poly Music Department graduates Nic Garrison, Whitney Westbrook and Theresa Riforgiate lend their fine voices to the chorus. The Cal Poly Lion Dance Team will perform as the evil serpent that attacks Prince Tamino.
Brian Asher Alhadeff will serve as music director and conductor for the performances. Music Department faculty member Jacalyn Kreitzer will produce the opera and direct musical rehearsals, with Ji Choe as assistant, along with Music Department vocal coach Paul Woodring and Music Department faculty member Katherine Arthur. Sarah Broomell and Cal Poly music graduate Matt Abela assist with musical preparation.
Jack Shouse, artistic director emeritus of the Pacific Conservatory of the Performing Arts, is stage director, and Cal Poly theatre major Gabrielle Koizumi is stage manager.
Longtime OperaSLO costumer Cynthia Vest, along with Renee Leatham and assistance from Cal Poly alumna Laura Pryzgoda, will provide the costumes.