Message from the Chair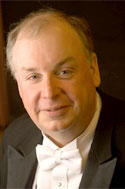 As you probably know, Cal Poly's motto is Learn by Doing. This practical, hands-on approach to learning is central to both faculty and students. I'm getting my own chance to practice Learn by Doing this winter and spring while I'll be on sabbatical. My task will be to practice the piano five to six hours a day while taking lessons with Daniel Pollack, my master teacher when I attended USC. While I'm away, the Music Department will be led by Meredith Brammeier. I wanted to take this opportunity to let you know about my colleague who is an outstanding teacher and composer.

Brammeier hails from the Midwest, with ties to both Chicago and Des Moines. Her degrees are from Princeton (Bachelor of Arts in music), Eastman (Master of Music in composition), and USC (Doctor of Musical Arts in composition). She is an accomplished composer in both choral and instrumental realms, and is a fine pianist and singer. Her work "Stitches in Time" was premiered by the Cal Poly Wind Orchestra in 2009, and was performed in the Walt Disney Concert Hall by the same group. She is currently writing a new choral piece to be performed in Carnegie Hall this March by PolyPhonics.

At Cal Poly, Brammeier is in charge of our musicianship and theory program, an important part of our music coursework. It's a credit to her leadership and teaching that these challenging subjects are approached with courage and, yes, even enthusiasm, by our students (rather than dread, as often happens on other campuses). She is an important part of the success that our students achieve in graduate schools across the country.
Thanks, Dr. B!
W. Terrence Spiller, Chair