Choirs and Arab Music Ensemble Join Forces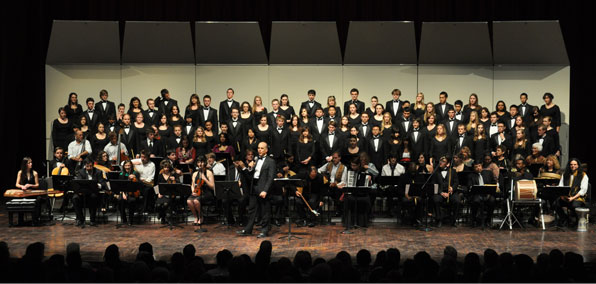 On Feb. 26 in the Performing Arts Center, "A World of Music" was performed as a collaboration of the Cal Poly Choirs and Arab Music Ensemble under the respective direction of Music Department Professors Thomas Davies and Ken Habib. This joint showing marked their second such collaboration, the first of which was in the winter of 2007 and was very enthusiastically received. The concert featured 130 students, 90 from the two choirs (PolyPhonics and The University Singers) and 40 from the Arab Music Ensemble. Several guest artists were featured, including internationally acclaimed dancer L'Emir Hassan Harfouche in a Bedouin percussion-dance and in a rousing rendition of a Levantine folkdance in the dabke genre; Los Angeles-based members of the Kan Zaman Ensemble, Wael Kakish (director) on buzuq, Ray Briggs on nay and David Martinelli on percussion; and San Luis Obispo dancers Saundra Sarrouf and Jenna Mitchell with their troupe.
As an ethnomusicologist whose specialization is the Middle East, Habib knows of no precedent in the history of ethnomusicology programs where such a well-developed Arab, Near Eastern, or Middle Eastern ensemble and such a strong chorus as that of the combined Cal Poly Choirs cooperated in the performance of such a rich program. Among the highlights of the concert was a classic suite of Arab art music made famous by the legendary Fairouz of Lebanon in a modern adaptation of Andalusian tradition. The musically and lyrically sophisticated suite included instrumental improvisation and poetic recitation along with examples of the muwashshah — one of the longest continuously performed genres of art music in the world.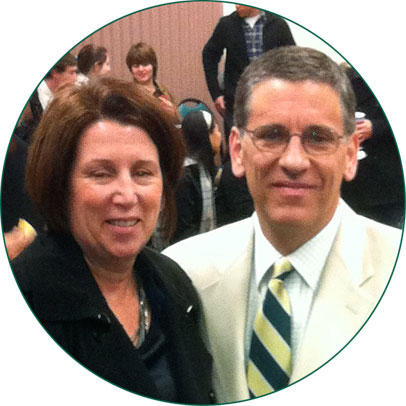 President Jeffrey Armstrong and wife Sharon
The Music Department is delighted that Cal Poly's new president and his wife
could attend both the concert and the subsequent reception!