Spring Calendar of Events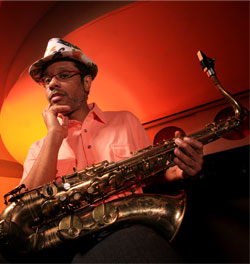 Don Byron - guest artist on the
Jazz Night Concert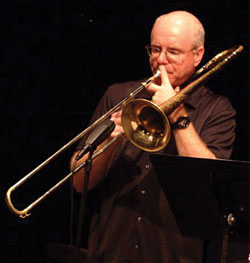 Alex Iles - guest artist on the
Wind Bands Spring Concert
Saturday, April 11


The 20th Century with Kurt Weill
8 p.m., Spanos Theatre
A pastiche of the touching, fiery and brilliant songs of German native Kurt Weill. The songs are set to the fascinating texts and poetry of famous writers of his time. Come experience the music of 1920s and '30s Berlin!

Saturday, April 18


Open House Concert: "Around the World in 80 Minutes"
8 p.m., Cohan Center
It took 80 days in Jules Verne's book, but after an exciting day at Cal Poly's Open House, we will take you on a musical journey around the world in 80 minutes (approximately!).
• Symphony: Piazzolla's "Tres Movimientos Tanguisticos Porteños" (mvt. 2), Marquez' "Conga del Fuego Nuevo"
• University Jazz Band: "Amlak Abet Abet," an Ethiopian pop tune, plus South American jazz compositions
• Wind Ensemble: Tchaikovsky's "Capriccio Italian," Shostakovich's "Festive Overture" and Rimsky-Korsakov's "Scheherazade" (excerpts)
Sunday, April 19


All-State Music Festival Concert
2:30 p.m., Cohan Center
One hundred and fifty of the state's finest young musicians participate in this spectacular Open House event. Festival guest conductors: Terry Summa, Jazz Band; Dario Sotelo, Wind Orchestra; and Thomas Cockrell, Symphony Orchestra. Summa was the director of bands at Foothill College for over 20 years. He was inducted into the California Music Educators Association Hall of Fame in March of 2008. Sotelo is artistic director and conductor of the Brazilian National Wind Orchestra. Cockrell is director of orchestral activities and music director of the University of Arizona Opera. In 2007 he was named the director of the James E. Rogers Institute for Orchestral and Opera Conducting.

Friday, April 24

Faculty Artists' Song Recital
8 p.m. Spanos Theatre
Please join soprano Katherine Arthur and pianist Susan Azaret Davies for an enchanting evening of song.

Friday, April 24

Jazz Band Swing Dance
8 p.m., Chumash Auditorium
The public is invited to this dance concert featuring original swing-era tunes played by the Cal Poly University Jazz Band No. 1. The dance will be from 8 to 10:30 p.m. in Chumash Auditorium at Cal Poly. Free swing dance lessons will be given at 7 p.m. The University Jazz Band will perform authentic big-band classics, suitable for dancing or listening.

Saturday, May 23


Early Music Ensemble:
Monteverdi's Masterpieces!
8 p.m., Mission San Luis Obispo
Vocal and instrumental forces combine to present the vast variety of madrigal styles composed by the great Italian composer, Claudio Monteverdi. Conductor Thomas Davies will outline the differences in Monteverdi's compositional approach in a lecture-recital format.

Friday, May 29

Jazz Night
8 p.m., Cohan Center
Genre-busting saxophonist, clarinetist and composer Don Byron will be featured with the Cal Poly jazz bands in a concert of cartoon jazz, including music from 1930s cartoons to current favorites such as "The Simpsons," "Tank," "The Incredibles" and more.

Saturday, May 30

Symphony Spring Concert
8 p.m., Cohan Center
Guest pianist Tianshu Wang will join the symphony in a concert that explores music that looks West, and music that looks East. The featured work will be Yin Chengzong's "The Yellow River Concerto." Yin used patriotic material to look West—into the musical tradition of Europe—at a time when doing so was unacceptable. Composers in the European tradition have often looked to Eastern cultures for inspiration as well.

Tuesday, June 2, and Thursday, June 4


RSVP XIV: Emergent Forms
8 p.m., Pavilion
This marks the 14th season of this diverse transmedia series celebrating electroacoustic diversity and compositional risk. Set in post-apocalyptic times, this year's performance examines the age-old struggles of new emerging ideologies in a world of powerful tradition. Don't miss this unique blend of sound, visuals and staging artistically directed by faculty member Antonio G. Barata.

Saturday, June 6

Wind Bands Spring Concert
8 p.m., Cohan Center
When you combine Hollywood's studio trombonist Alex Iles with the band world's star composer Eric Ewazen, then add 130 collegiate musicians playing at their very best, you have the ingredients for a smashing season finale. Ewazen's extraordinary work for trombone and wind ensemble, "Visions of Light," provides the inspiration for this special evening. Through the magic of music, the performers will explore our innermost thoughts with compositions about visions, dreams, revelations, allegory and even the macabre. To commemorate the Allied Powers' vision of eliminating the Third Reich on June 6, 1944, James Barnes' "Lonely Beach" will be performed.

Sunday, June 7


Cal Poly Arab Music Ensemble Spring Concert
7 p.m., Spanos Theatre
Join the Arab Music Ensemble as it performs vocal and instrumental selections of some of the best-known art and popular music of the Eastern Mediterranean and larger Middle East. Hear the traditional melodic and rhythmic modes in the contexts of old and new genres on instruments including the oud, nay, qanun, buzuq, violin, cello, bass, guitar, accordion, riqq, daff, darabukka/tabla, and others. Renowned guest artists bring added depth and virtuosity to the concerts, and San Luis Obispo's own Middle Eastern dancers top off the performances with folkloric dancing.