The World Across the University: China in the 1930s and 40s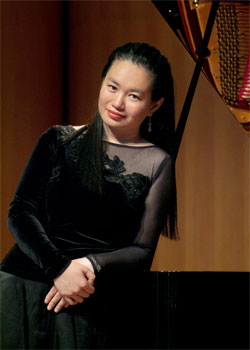 Tianshu Wang - guest artist on the
Symphony's Concert, "Looking East, Looking West"
Cal Poly's "The World Across the University" festival will take place on May 30, and will bring together Cal Poly faculty from various colleges, a Chinese-based Shenyang Early Music Ensemble, piano virtuoso Tianshu Wang, and the Cal Poly Symphony. The focus: China in the 1930s and 40s.

The period covering the early to mid-1900s in China is known as the "Republican Era." During much of this time, Chiang Kai-shek controlled the Nationalist Party and Mao Tse-tung emerged as the top leader of the Chinese Communist Party as a result of his role in the epic 6,000-mile Long March. Japan was annexing parts of China where it founded a puppet state (Manchukuo) and appointed a puppet emperor (the last emperor of China). Soon after, China and Japan were at war.

This pivotal era in China's history will provide the focal point for this year's multi-disciplinary exploration. On May 30, 1:30–4:30 p.m. in the Chumash Auditorium, Cal Poly faculty will address this topic, bringing insights from their specific disciplines. The Shenyang Early Music Ensemble will also demonstrate traditional Chinese instruments and music. The festival will culminate with the Cal Poly Symphony's Spring Concert: "Looking East, Looking West" in the Performing Arts Center at 8 p.m.

This concert features music that looks East, music from the East, and music that looks West. It begins with colorful works by European composers who strove to evoke the sound of China: a movement from Ravel's "Mother Goose Suite" and selections from Puccini's last opera, "Turandot." The concert then turns to music from the East: traditional Chinese music performed by the Shangyang Early Music Ensemble. The culmination of the evening is a performance by pianist Tianshu Wang and the Cal Poly Symphony of the "Yellow River Concerto," a work written during the Cultural Revolution in China, but based on a patriotic cantata from 1939. This Chinese work looks West: to the genre of the piano concerto, and to the sound of Europe, all the while remaining true to its roots.