Voice Student News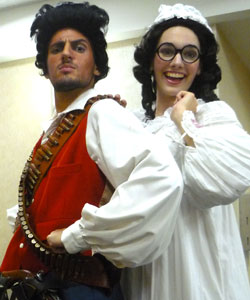 Rory Fratkin as Samuel and
Katelyn Holliday as Isabel
Music Majors in Professional Production of Pirates of Penzance
Music Majors Rory Fratkin and Katelyn Holliday performed in the October performances of the Pacific Repertory Opera's production of Gilbert and Sullivan's "Pirates of Penzance."
Fratkin was the only principle actor who was not brought in from out of town, and he did not find out he had the role until two weeks before rehearsals began! He played the part of the pirate Samuel who tries his hardest to be a true, full-blooded pirate … and at times fails miserably!
Holliday has been a Pacific Repertory Opera chorus member for four years and has played some minor roles in their productions. This year she had the opportunity of performing the role of Isabel, the bookish daughter of the Major General. Brian Holliday, Katelyn's brother, sang in the chorus and is a member of PolyPhonics.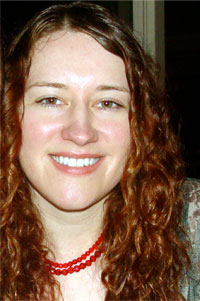 Amazed by Austria
By Katelyn Neumann
This past summer I spent a month in Austria. It was unlike anywhere I have been. I loved how eager most people there are to practice, play, and listen to music, and their appreciation of how it enriches our daily lives. I attended some performances at the Mozarteum in Salzburg, and met an alum who spoke highly of the program, so I've decided to apply to the Mozarteum for grad school in addition to the Eastman School of Music, Curtis Institute of Music, and a few other top music schools in America. I am very excited for my upcoming senior vocal recital and graduation this spring, as well as my start of graduate school in fall 2010.