PolyPhonics Performs with the Moran Israeli Choir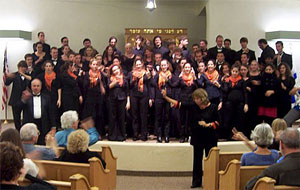 Conductor Naomi Faran (Moran Israeli Choir), leads the combined choirs at Temple Beth David.
Tom Davies follows along!
The evening of Oct. 14 was a special one for PolyPhonics. The 42-member ensemble joined with the members of the Moran Israeli Choir for a special concert at Temple Beth David in San Luis Obispo. PolyPhonics, conducted by Thomas Davies, welcomed their guests with three pieces, including "Erve She Shoshanim" (Evening of Roses) which they sang in Hebrew.
The Moran Choir, which resides 20 miles north of Tel Aviv, continued with their full program of classical, Hebrew and Israeli folk music. Naomi Faran, conductor of the Moran Choir, is the sister of Cal Poly engineering professor, Tali Freed. The choirs shared time together after the performance dancing and singing Israeli folk songs. Many new friends were made, and a great time was had by all.