Jazz Bands Tour Bay Area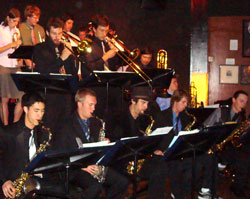 At the Savanna Jazz Club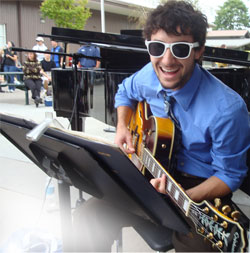 Matt Donner at Mountain View High School
The University Jazz Bands #1 and #2 toured the Bay Area in May 2009, performing at the Savanna Jazz Club in San Francisco and at the Mountain View High School Jazz Festival.

At the Savanna, the bands enjoyed a very enthusiastic audience, a full house and demands for multiple encores after the two bands played a total of four hours. The only drawback was that the stage was small for a full big band (four trumpets, four trombones, five saxophones, rhythm section and vocalist), but the bands somehow managed to squeeze in, even if the drummer was completely invisible behind all the wind instruments. Because the club was full, there was very little room for dancing, but a few intrepid dancers didn't let that stop them, squeezing in between tables. More than a few Cal Poly alumni attended, including a former jazz band member, and all of them said that it was great to connect with and to hear the current generation of Cal Poly jazz musicians.

The next day, the bands played in Mountain View. Jazz band alumnus Jason Kneebone (trombone, 2002 - 2004) teaches music at Mountain View High School. The bands performed selections from their swing dance repertoire, accompanied by four dancers from the Cal Poly Swing Club who put on an excellent swing dance demonstration.