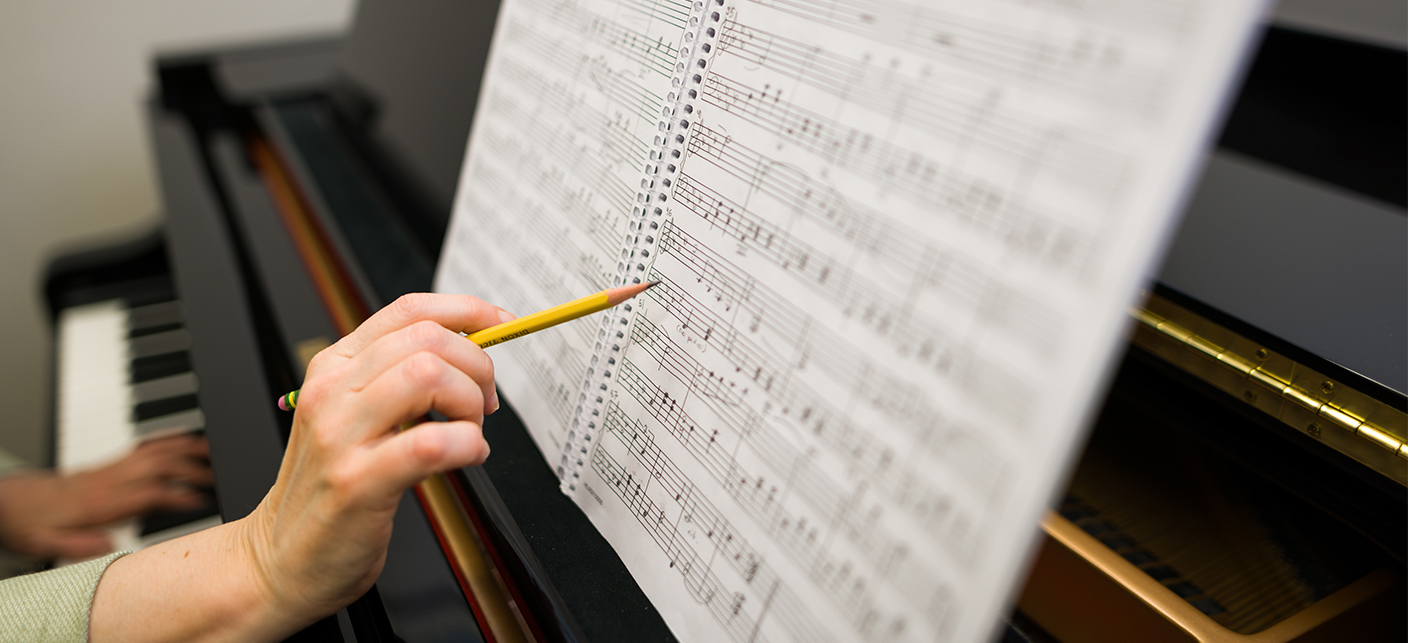 "I was in an interview with Ubisoft to work as a composer there, and the test they gave me was so second nature because it was what I'd learned in my music classes." —Brandon Rolle (Music and Political Science, '10), composer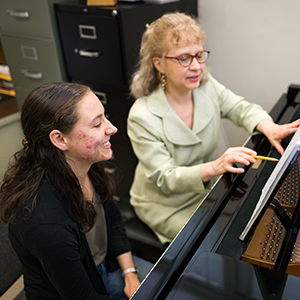 Private composition lesson
Develop Essential Skills
As a music major, you will develop fundamental skills in theory and musicianship through our core curriculum. As a rising composer, you will expand your skill set through a wide variety of hands-on electives, such as orchestration, sound design, jazz theory, counterpoint, conducting and more.
You will also gain invaluable performance experience at Cal Poly. Besides taking lessons in voice or an instrument, you will be required to audition for any of the Music Department's large ensembles, from choirs, bands and orchestras to the Arab Music Ensemble.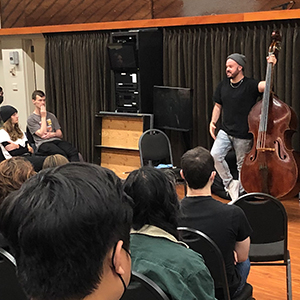 Session with composer Michael Thurber
Interact with Other Composers
At Cal Poly, you will meet notable composers who visit, present their work, discuss their craft and give feedback on student compositions. Recent guests, virtual and in-person, include Eric Whitacre, Julie Giroux, Dale Trumbore, Ola Gjielo, Mutsuhito Ogino, and Jonathan Manness. You will also interact with your peers and exchange ideas through the student-run Composition Club.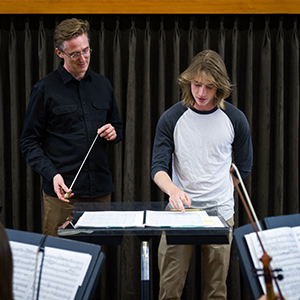 Hear Your Work Performed
Our performing ensembles regularly hold reading and recording sessions of student compositions. Through these, you can hear your work, get feedback from performers and build your portfolio. You can also submit your work for public performance by your peers, small groups or large ensembles. Ensemble directors choose exceptional student compositions for performance at Cal Poly concerts. 
A Career in Composition 
Our graduates are equipped to succeed in graduate programs and in industry as composers and arrangers.

Artistic director and head of composition, Impulse New Music Festival

Singer-songwriter, Composer, Music Educator
Indie Music Academy


Ryan Putt (Music, '06)
Educator, arranger, composer
Former staff arranger, U.S. Navy Fleet Bands
Assistant Band Director, Fort Worth Independent School District