Voice Student News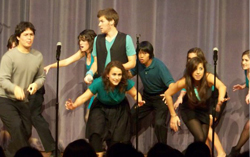 On stage at ICCA
(pictured left-to-right, back-to-front):
Joe Palomares, Amy Stevens, Jacob Stringfellow,
Michael Felias, Inness Pryor, Inbal Ranan, Amy Lebetsamer
'Take It SLO' Takes it to Berkeley
The a cappella ensemble Take It SLO recently competed in the 2010 International Championship of College A Cappella (ICCA) quarterfinal competition at UC Berkeley. The group had a great time participating in the show in which eight other college a cappella groups performed. Although they did not move on to the semifinal round (only first and second place move on), it was a positive experience for the group! They plan on competing again next year and continuing to travel and collaborate with other college a cappella groups.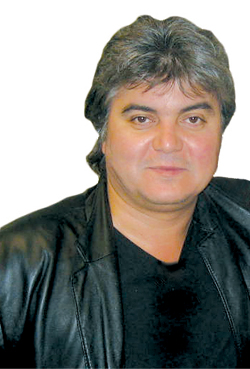 Giorgio Lalov Vocal Master Class
On February 10, Giorgio Lalov, director of Teatro Lirico D'Europa, presented a vocal master class in the Pavilion of the Performing Arts Center. Participants in the class included music major vocalists Amy Beth Nickelson, soprano; Katelyn Neumann, mezzo-soprano; Theresa Riforgiate, soprano; Rory Fratkin, baritone; Brittney Zearfoss, soprano; Lisa Figel, soprano; and Karen Holder, mezzo-soprano.
Lalov and his opera company were in town to perform a production of "Die Fledermaus" in Harman Hall of the Center later that evening.
Lalov was so impressed with the singers that he has offered to come back again spring quarter and do it all over again! Music Department faculty member Jacalyn Kreitzer has arranged for Lalov to work with Cal Poly singers each spring.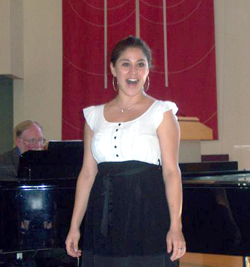 Paul Woodring accompanies Patricia Rosas
at the Opera Lovers performance
Vocalists Perform for Opera Lovers
On February 3, several vocalists sang for the Opera Lovers of San Luis Obispo at Mt. Carmel Lutheran Church in San Luis Obispo. Opera Lovers is a group with many members who travel the world to listen to professional opera, including such companies as the Metropolitan Opera, Wien Staatsoper, Berlin Deutsche Oper, and opera companies of Santa Fe, San Francisco and Covent Garden. This group is an important sponsor of the Cal Poly Opera Workshop.

Opera Lovers is very interested in the progress of our vocal students, and looks forward to, and thoroughly enjoys, these annual concerts.
Performers included:


Emily Allyn
Nate Black
Bruno Caulk
Natalie de Bruijn
Katie Dugan
Lisa Figel

Rory Fratkin

Brian Holliday

Rachel Malinowski

Katelyn Neumann

Amy Beth Nickelson

Patricia Rosas

Ellie Sanders

Claire Twaddell

Whitney Westbrook

Brittney Zearfoss