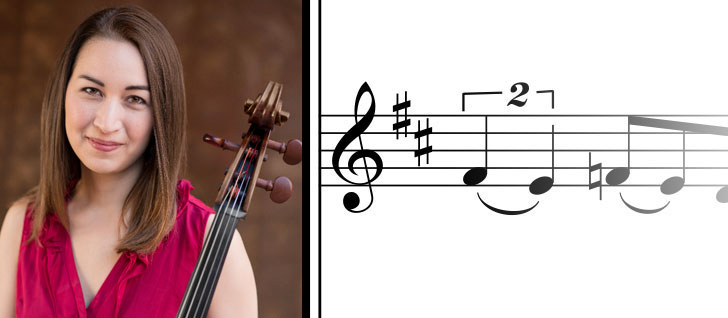 Laura Gaynon, cello, is an educator and frequent performer and presenter. She has performed both modern and baroque cello in concert halls across the U.S., Europe, Canada and China. Based in San Francisco, she has performed with the American Bach Soloists, the Oregon Bach Festival Orchestra, San Francisco Chamber Orchestra, Opera Parallele, Magik*Magik Orchestra, One Found Sound, and the baroque chamber ensemble MUSA. A passionate chamber musician, she is the cellist of the Pacific Crest String Quartet, which forms the faculty of the Pacific Crest Music Festival, as well as of the viola-cello-piano trio Ensemble Illume with violist Jessica Chang and pianist Allegra Chapman. She has also collaborated in performances with Kim Kashkashian, Tanya Gabrielian, Krista Bennion-Feeney, Geoff Nuttall, Bonnie Hampton, Paul Hersh, and Ian Swensen. She has performed at numerous festivals including for the Taos School of Music, Valley of the Moon Music Festival, Berwick Academy, Toronto Summer Music Festival, the St. Lawrence String Quartet Seminar, and the International Piatigorsky Cello Master Classes at USC.
Gaynon is co-founder and co-artistic director of Bard Music West, a San Francisco music festival that explores the life and works of a single composer from the last 100 years for each season through music, dance, theater, film and lectures. She is a tireless advocate for new music and has organized commissions and premiered pieces by composers such as Eugene Birman, Danny Clay, Mélanie Clapiès, Matthias McIntire, Luna Pearl Woolf, Andrew McIntosh and others.
In addition to teaching cello and cello ensemble at Cal Poly, Gaynon has a private cello studio in San Francisco. Until 2020, she directed the String Quartet Program at Thomas Hart Middle School in Pleasanton, California. She is a core faculty member of Chamber Music by the Bay and the Pacific Crest Music Festival, and she has taught chamber music at California Music Preparatory Academy.
Gaynon earned degrees from Yale University and the San Francisco Conservatory of Music, where she graduated with a master's degree in cello performance, an artist certificate in chamber music, and an emphasis in historical performance practice as a student of Jennifer Culp and Elisabeth Reed.
Outside of music, Gaynon's most cherished accomplishment is completing a cross-continent bicycle trip, from New Haven, Connecticut, to Portland, Oregon.