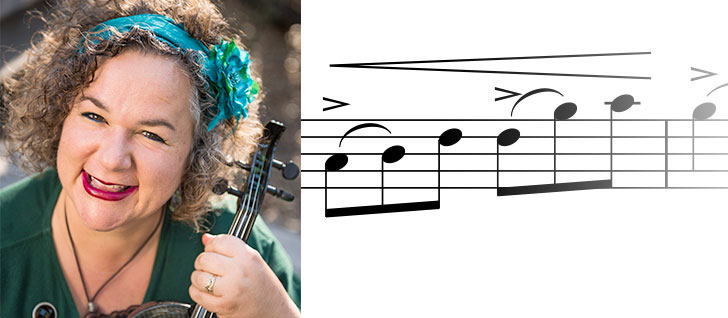 Brynn Albanese has celebrated a 35-year musical career. Violin has been part of her life since the age of 4. Her entire family is made up of professional musicians, including the legendary opera prima donna, Licia Albanese.
After graduating from the Peabody Conservatory of Music with high musical honors, she was the concertmaster of the Tanglewood Orchestra under Simon Rattle and Seiji Ozawa. She was a member of Boston Symphony Orchestra and the Boston Pops, and an original member and principal second violin of the Metamorphosen chamber orchestra under the baton of Scott Yoo.
Albanese moved from the East Coast to the Netherlands where she played with the Residentie Orkest of The Hague under the baton of Jaap Van Zweeden, who now conducts now New York Philharmonic. She traveled and participated in various chamber music festivals and orchestras.
In 2006 Albanese returned to to California be closer to her family. She fell in love with the Central Coast and its musical community. She enjoyed being concertmaster of the Monterey Symphony, principal second violin of the Cabrillo Festival Orchestra under Marin Alsop, and performing under Scott Yoo in the Festival Mozaic Orchestra. She joined the world music ensemble Café Musique in 2008 and performed with the group throughout California and Europe until the group disbanded in 2020 after 15 years. She performs with Quartet CLASSINOVA, a group that blends the sound of the classical violin with jazz, bossa novas, tango, and Scottish and Celtic works.
Albanese developed a teaching method called "Brynn Albanese's Practice Technique Boot Camp" which was accepted by the American String Teachers Association in 2014.
In 2018, she began an acoustic concert series in Cambria, California, called Cambria Concerts Unplugged, at the Old Santa Rosa Chapel. The chapel is known for its warm smooth sound and fabulous acoustics. The series is one of the only acoustic music series of its kind in the area. A wide variety of music groups are presented.
During the pandemic, Albanese has created a mobile one-woman-show. The San Luis Obispo County Office of Education is having her record an educational video series titled, "Exploring the World Through Music with Brynn Albanese." Designed for children of all ages as well as adults.
From 2008-20 Brynn served as concertmaster for numerous groups on the Central Coast: the San Luis Obispo Symphony, Symphony of the Vines, Orchestra Novo, Master Chorale and Opera San Luis Obispo.
In 2020 and 2021, she will be training through San Luis Obispo County Hospice to earn a Music for Healing and Transitions Practitioners (MHTP) certificate. Established in 1994, the MHTP Programs, Inc. trains and certifies musicians in the art and science of providing therapeutic music for body, mind and spirit. MHTP recognizes the transformative power of music as a therapeutic enhancement to the healing process and the life/death transition.