W. Terrence Spiller
Professor, Department Chair, Piano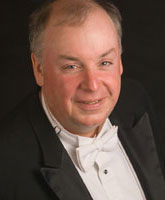 Davidson Music Center Room 113 | 805-756-2177 | wspiller@calpoly.edu
B.M., University of Washington. M.M., Indiana University. D.M.A., University of Southern California.
Recognized by the University of Southern California School of Music as outstanding doctoral graduate of 1991. Prize-winner in international piano competitions.
Dr. Spiller has performed across the country as soloist, recitalist, chamber musician, and accompanist. The L.A. Times reviewed his performance at the Long Beach Bach Festival as "polished, genteel". The Torrance Daily Breeze called his performance with the Peninsula Symphony Orchestra as "spirited, whimsical and intense...From flowing sensuality to pounding drama, soloist and orchestra matched wits in a vigorous joint effort." The Milwaukee Sentinel cited a chamber music performance as "breathtaking, soul-stirring." The San Luis Obispo Telegram-Tribune called him "inspired...a musical powerhouse."