Brynn Albanese
Violin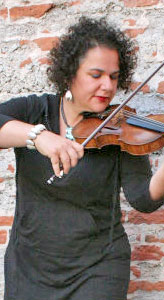 Davidson Music Center Room 129 | 805-756-2406 | balbanes@calpoly.edu
Brynn Albanese made her solo debut at the age of 10 with the Carson Symphony Orchestra in Los Angeles, Calif. She grew up in Los Angeles in a family of professional musicians, so was exposed to music from infancy. Her mother is a cellist, her father a clarinetist and her grandfather a concert pianist. She studied with Elizabeth Ivanoff Holborn starting at the the age of 4 for 13 years. During this period Albanese was the recipient of many first-place awards, including the California Bach Festival for six consecutive years, the VOCE regional and state competitions and the Etude competition. She has served as concertmaster of the California State Honors Orchestra and principal second of the National Honors Orchestra under James DuPriest. She spent her teenage years and early 20s performing and studying at summer festivals such as Interlochen National Music Camp, Ivan Galamians' Meadowmount School, Blossom Festival, Tanglewood Music Festival and various European schools as well.

Albanese has toured and performed worldwide sharing her exhilarating style with audiences from Boston to the Netherlands. A graduate of the Peabody Conservatory of Music, her first great musical memory was that of being concertmaster for the Peabody Conservatory Orchestra on a tour to the former Soviet Union in 1987. She has also served as concertmaster and soloist for the Tanglewood Festival Orchestra, Boston Philharmonic, the Annapolis Symphony Orchestra, and various musical groups ranging from operas, Broadway productions and more. She performed and toured with the Boston Symphony Orchestra and Boston Pops under the direction of Seiji Ozawa and John Williams from 1994-2001. They performed in all the great halls of the world, including in Vienna, China, Japan, London to Greece and more. She also served as principal second and has been a soloist with the Boston Pops Orchestra.
Albanese lived and worked for six years in the Netherlands, performing with various Dutch orchestras and touring the world a second time from the Canary Islands to Argentina and beyond.
After returning to the U.S. and to California, she held the position of principal second violin of the Cabrillo Festival Orchestra under Marin Alsop, concertmaster and principal second of the Monterey Symphony and principal second of the Fresno Philharmonic.
In 2007, she joined the well-known, local classical crossover ensemble, Café Musique. Currently, musical diversity has taken Albanese to a whole new level. The group has released three albums and perform throughout California and abroad. Travel has been a big part of life in Café Musique. The group has delighted their fans with a couple overseas small ship cruises in France, Portugal, and The Netherlands in 2015. In September of 2013, they performed with Michael Nowak and the San Luis Obispo Symphony at "Pops by the Sea" at Avila Beach. Their music was masterfully orchestrated by Hollywood's legendary music composers/arrangers Brad Dechter and Tim Simonec.
Nick Powell of the San Luis Obispo New Times said of Café Musique:

Their sound is something like two scoops of gypsy folk with classical sauce and a sprinkling of chopped jazz. It's delicious, exotic and just overflowing with talent ... the group was phenomenal, alternating smoothly from fast and fun to serious and endearing."

Albanese has a private teaching studio and has recently developed a mobile practice technique workshop called "Brynn Albanese's Violin Practice Technique Boot Camp" that she will be presenting to the American String Teachers Association in Washington, D.C., September 2014.
She also has taught Boot Camp material and has given a master class at the Peabody Conservatory of Music Preparatory Department.
Her website has many updates, calendars, sound samples, videos and more!